SR 387 improvement project includes new pedestrian hybrid beacon
SR 387 improvement project includes new pedestrian hybrid beacon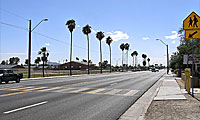 When we heard that a new improvement project on SR 387 would include the installation of a pedestrian hybrid beacon, we thought now would be as good a time as ever to provide a little refresher on these traffic control devices…
Even if your commute doesn't take you into Casa Grande (that's where the project is), you'll still want to pay attention because PHBs have been used to improve service for pedestrians throughout the country, including the Tucson and Phoenix metro areas (ADOT installed its first PHB last year in Globe). Maybe you've already encountered one.
What is a Pedestrian Hybrid Beacon?
PHBs are a type of device used to warn and control traffic at unsignalized locations to assist pedestrians in crossing a street or highway at a marked crosswalk. It will signal traffic to stop with a red light, but only when necessary for pedestrians to cross.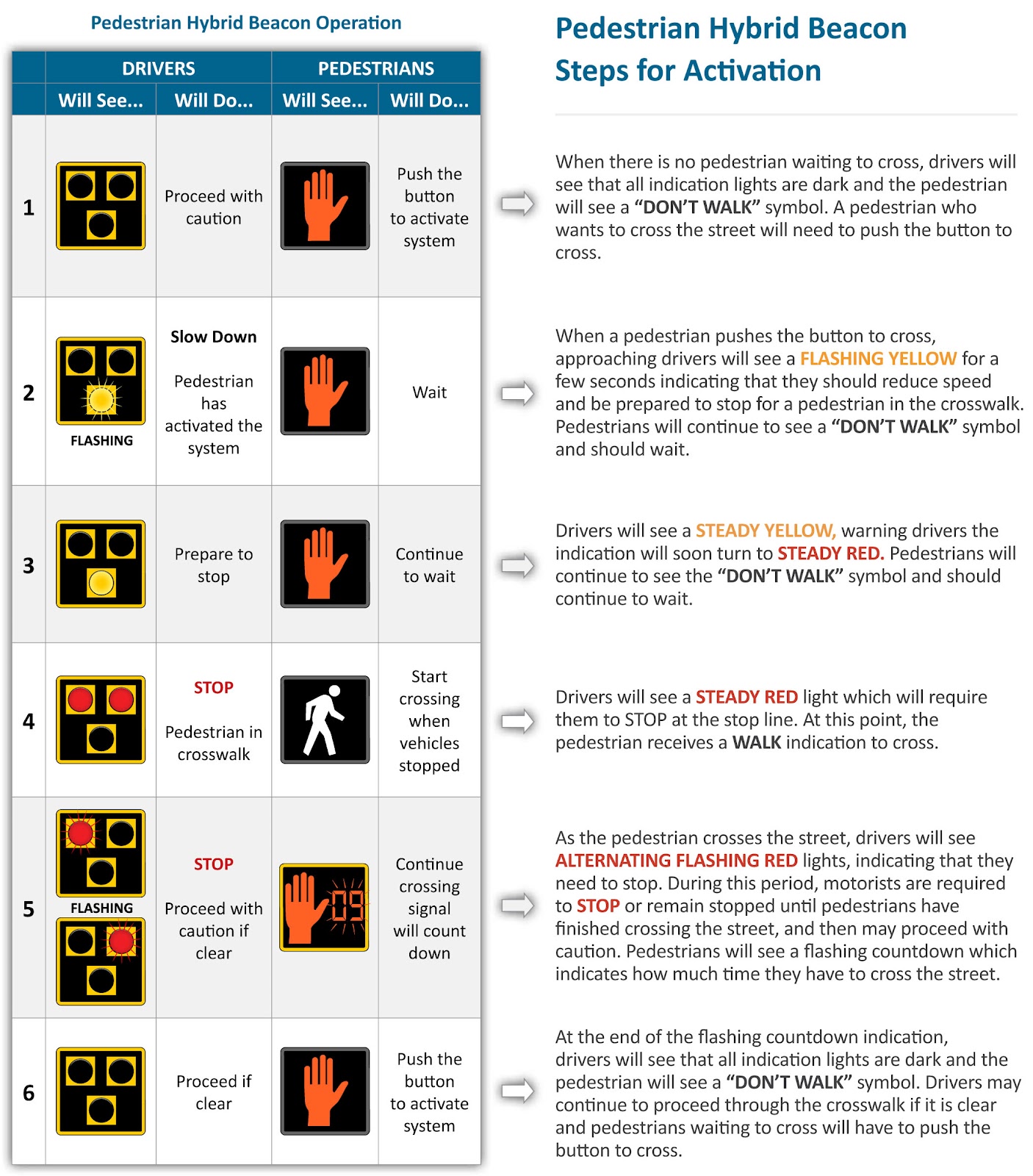 You can see the chart at left for a detailed look at what motorists, pedestrians and bicyclists can expect.
When there is no pedestrian or bicyclist waiting to cross, motorists will see that all three lights are dark. But, once a pedestrian pushes the button to cross, drivers will first see a flashing yellow light indicating they need to reduce speed and be prepared to stop.
Next, drivers will see a steady yellow light. Pedestrians are still not walking across at this point (they'll see a "Don't Walk" symbol), but drivers should be aware.
Then the red light is illuminated, which, of course, means STOP. Pedestrians will get the signal that it's safe to walk across the street.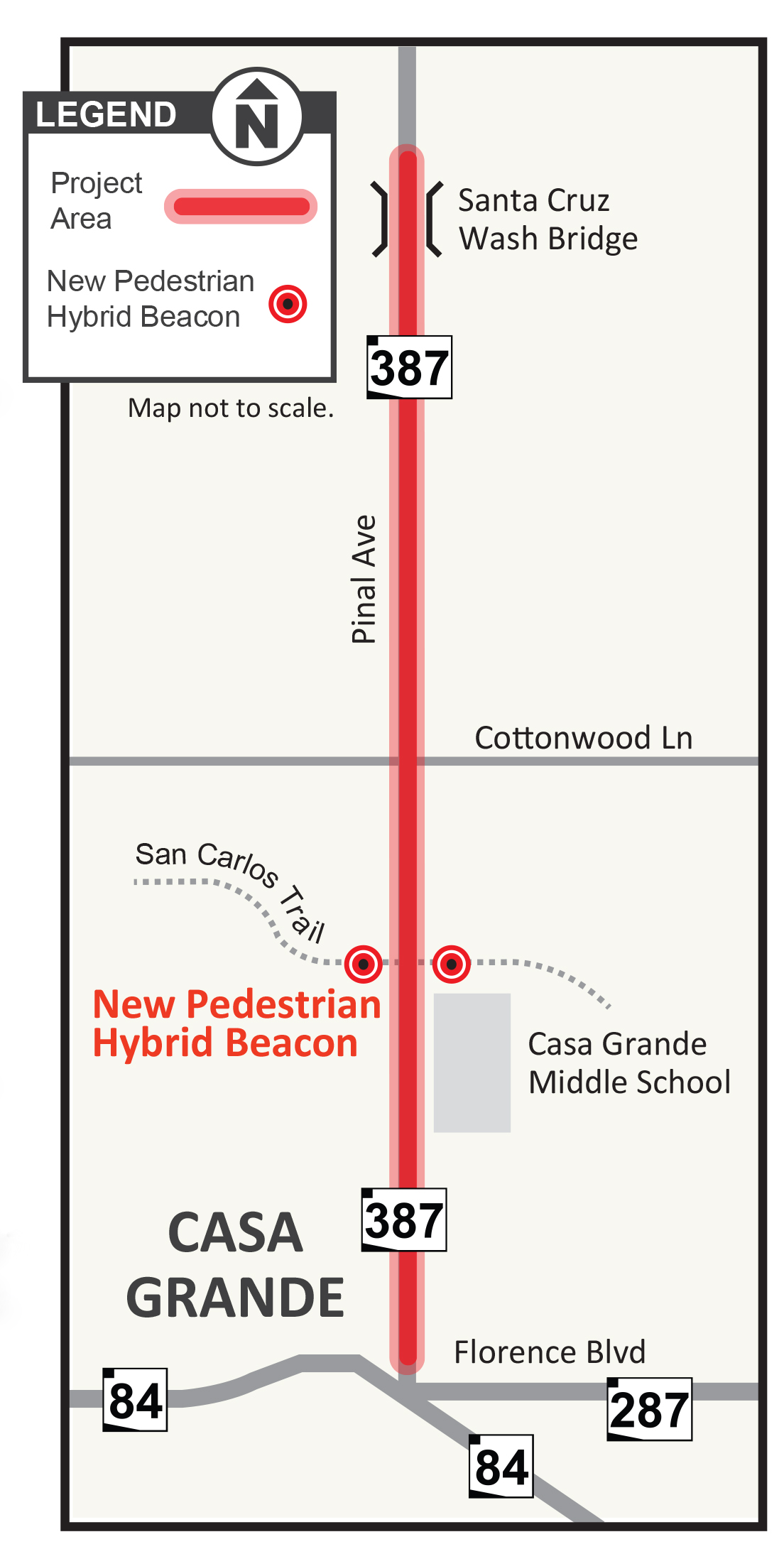 As the pedestrian crosses the street, drivers will see alternating flashing red lights, indicating that they need to stop. During this period, motorists are required to stop or remain stopped until pedestrians have finished crossing the street (pedestrians will see a flashing countdown, which indicates how much time they have to cross).
And that's it. Once the flashing countdown is over, drivers will see that all lights are dark again and may continue to proceed through the crosswalk – as long as it's clear.
This project includes more than just the PHB installation. A 2.6-mile section of SR 387 (Pinal Avenue) between Florence Boulevard (SR 287) and Santa Cruz Wash Bridge will get roadway and sidewalk improvements. The work includes
Removing and replacing pavement on Pinal Avenue and curb and gutter improvements throughout project limits.
Replace and upgrade sidewalks to meet Americans with Disability Act (ADA) Standards.>
Restriping new roadway surface.
Installation of Pedestrian Hybrid Beacon (PHB) at San Carlos Trail school crossing.
Remove and replace guard rail on Santa Cruz Wash Bridge.
Work is expected to wrap up in spring 2014. For the latest on the project, including traffic alerts, visit the SR 387 project page.