SR 89 Hell Canyon Bridge will have some heavenly features
SR 89 Hell Canyon Bridge will have some heavenly features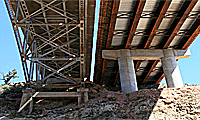 By Caroline Carpenter / ADOT Communications
A new State Route 89 Hell Canyon Bridge is in the works north of Chino Valley. While the name often leads to a few jokes, we promise the bridge will have heavenly features. The slideshow above shows how crews have been working to complete the bridge.
On Friday, May 13, SR 89 will close for the deck pour from 9 p.m. until 1 a.m. Saturday. Drivers need to plan ahead because the road will be closed in both directions.
The $14.4 million project will replace the existing 1954 bridge with a 665-foot, four-span steel-plate girder bridge. It's located east of the existing bridge and will be approximately 47 feet wide, 17 feet wider than the current bridge. The bridge will be able to handle heavier loads, ensuring that commercial trucks can conveniently carry goods and produce to their final destinations.
Check out the time-lapse of the bridge girders going up.