SR 89A Oak Creek bank protection project is underway
SR 89A Oak Creek bank protection project is underway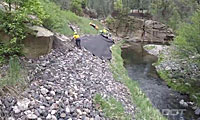 It's not all roads and bridges, here at ADOT. Sometimes the projects we take on include stabilizing the areas near a highway…
In the past, we've blogged about the different methods used to stabilize slopes, but today we're taking a look at a new project that will help to stabilize and improve erosion protection along the eastern bank of Oak Creek on SR 89A, north of Sedona.
As you can see in the video above, last summer's Slide Fire impacted the area. If no action was taken, the increased flow in Oak Creek this year could lead to rising waters that have the potential to wash out the roadway.
Crews are taking action and currently are working to protect SR 89A from further bank erosion. Existing protection measures will be fortified and other bank support improvements, including repairing and reinforcing gabions (wire baskets filled with rock), replacing concrete reinforcements, placing rock and cobble to enhance protection and upgrading guardrails within the project area, will be completed by August.
Besides the work itself, there are a many environmental issues to take into consideration on this project.
Flagstaff District Environmental Coordinator Rob Nelson explains in the video above the steps that are being taken to protect Oak Creek, along with a few protected species that live nearby.
"At ADOT, we're here to improve roadways for the traveling public," says Nelson. "You can find a good equilibrium between doing that and maintaining environment."
What drivers need to know
Traffic will be reduced to one lane at the project location and flaggers will provide for alternating travel through the work zone. Drivers are urged to allow for extra time in travel (traffic delays from 5 to 15 minutes are anticipated). The hours of construction will run from the early morning to 4 p.m. Monday through Friday, however no nighttime, weekend or holiday construction is anticipated.
Please visit the project page for more information.