SRP employees honored by ADOT for helping with vehicle fire on I-10
SRP employees honored by ADOT for helping with vehicle fire on I-10
By Doug Pacey / ADOT Communications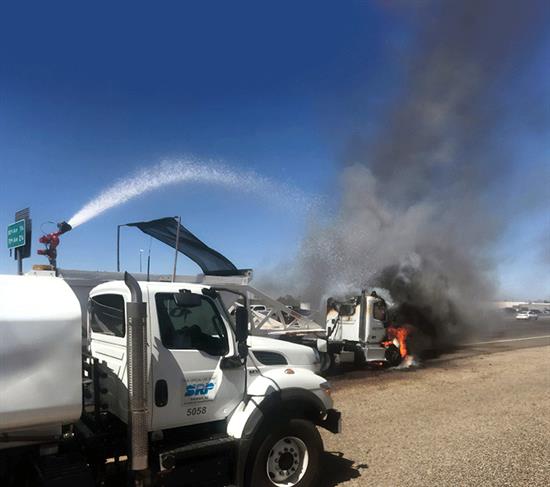 When it comes to putting out fires, not all heroes drive big red trucks.
This week, ADOT recognized three members of SRP's Water Construction West team for doing the right thing at the right time. SRP's Bryan Dodge, Danlee Yazzie and Vince Ortega helped keep traffic moving and, more importantly, kept motorists safe when they put out a big fire involving a tractor-trailer last month.
Just before 3 p.m. on July 2, a semi on the shoulder of I-10 near the Loop 101 interchange was on fire. Fortunately, Bryan, Danlee and Vince made the decision to stop their full water truck and start knocking down the fire (as you can see in the photo below that SRP shared with us). Not only did they help keep traffic moving – the afternoon commute was beginning – they kept the traveling public safe by quickly putting out the fire.
Every day, there are incidents, like crashes, stalled vehicles, unsecured loads and, yes, vehicle fires, on our highways that require first responders. Law enforcement, maintenance crews and fire fighters are typically the first ones on scene. What was different this time is that we got an assist from unexpected partners. Bryan, Danlee and Vince truly were the right people in the right place at the right time with the right equipment.
 And they didn't hesitate.
That's why ADOT was pleased today to present Bryan Dodge, Danlee Yazzie and Vince Ortega with our A.I.R. Award, standing for ADOT's core values of accountability, integrity and respect. They may not be ADOT employees, but they upheld those principles by taking action to protect public safety.