State Transportation Board approves Five-Year Construction Program
State Transportation Board approves Five-Year Construction Program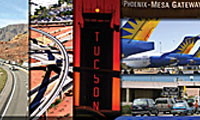 The State Transportation Board voted yesterday to formally adopt the 2014-2018 Five-Year Transportation Facilities Construction Program…
Readers of the ADOT Blog will remember that this is the plan that was up for public comment between March and May. It's also what we've in the past referred to as a, "blueprint for ADOT that details where, when and how regional, state and federal funding will be spent for projects over the next five years to improve our state's transportation infrastructure."
After conducting three public hearings and considering the comments of about 1,300 people across Arizona, the board made its decision during their meeting yesterday in Phoenix. The finalized plan now determines which projects will move forward in Greater Arizona while allocating dedicated funding to preservation of Arizona's existing highway system over the next five years. In addition, four major projects will move forward in the Pima County region and 15 major projects will advance in the Maricopa County region using, in part, funding generated by those regions.
The board wrestled with some tough choices about how to fund major projects and still preserve the existing highway system. This year, the proposed projects for Greater Arizona drew a tremendous amount of interest and comment from communities across Arizona. Due to a major decline in transportation funding, the Arizona Department of Transportation must reduce the 2014-2018 Five-Year Program by a total of $350 million statewide and will move toward preserving existing highway infrastructure. This significant reduction in funding means fewer expansion projects will move forward, particularly in Greater Arizona.
A, B or C?
As part of the public comment process for the Five-Year Program, ADOT developed three scenarios to address how to fund projects in Greater Arizona with limited money.
Scenario A focused on allocating the majority of funding to preservation. Scenario B focused on moving major projects forward with the available funding. Scenario C focused on a combination of preservation and major projects. Ultimately, the board adopted a modified version of Scenario C.
The following is the list of projects for Greater Arizona during the 2014-2018 Five-Year Program. The first item includes a project that was approved by the board to be accelerated to the current fiscal year (FY 2013):
State Route 89, Deep Well Ranch Road to South Chino Valley: On June 14, the board voted to accelerate this highway widening project from FY 2014 to FY 2013, placing it in the current Five-Year Program. This is a $25 million project that will be funded with unexpended money from other ADOT highway projects.
Interstate 10, Ehrenberg Port of Entry, Phase One: $8 million allocated in FY 2014 for technology improvements.
US 95, Fortuna Wash Bridge Construction: $1.5 million allocated in FY 2014 for design and $13.5 million allocated in FY 2015 for construction.
State Route 260, Lion Springs Section: Will be reduced from $40 million to $5 million, which will be allocated in FY 2018 for design work on this widening project. The $35 million previously allocated for this project will now go toward pavement preservation.
US 60, Silver King Section and Superior Streets: $45 million accelerated from FY 2016 to FY 2015 for this widening project.
State Route 260, Interstate 17 to Thousand Trails: $4 million allocated in FY 2014 for scoping and $62 million allocated in FY 2016 for construction of this widening project.
More about the plan
The Five-Year Program is updated annually. Each program begins with a long-range visioning process, moves into a more realistic 20-year plan and finally yields each Five-Year Program. The program is developed by working closely with local planning organizations and community leaders to identify ready-to-construct or design projects.
Funding for the Five-Year Program is generated by the users of transportation services, primarily through the gasoline tax and the vehicle license tax.
For more on the plan, re-visit some of our previous blog posts, or check out ADOT's website.