STOP for a minute to learn about ADOT's sign shop
STOP for a minute to learn about ADOT's sign shop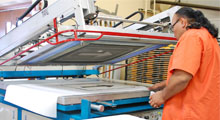 By David Rookhuyzen / ADOT Communications
You see them every day as you commute. They're to the left, the right and above with constant reminders of where to go, how much farther and how to get there safely.
But have you stopped to think about the humble traffic sign and where it comes from? If you haven't, don't worry. Our sign shop is there to do it for you.
ADOT's sign shop, located in Phoenix, is staffed by half a dozen employees turning out every sign you can think of: speed limit signs, stop signs, exit signs, signs on the sides of ADOT buildings, even the text that goes on large signs over and alongside interstates.
When crews around the state need new signs, they electronically submit a request to the shop. The shop then will check to ensure the signs match the state's manual of approved signs for color, shape, size, etc.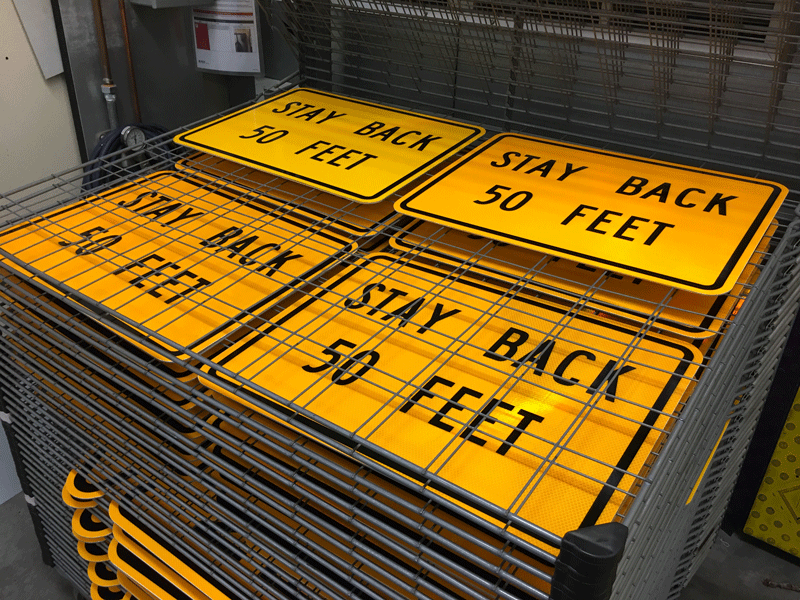 Each sign is made from aluminum stock, and the shop has two different ways of turning that into the next speed limit or rest area sign.
The first is screen printing, which uses a printing press to print ink on top of reflective sheeting. The second is electric cutting, or e-cutting, which allows for cutting sign images, special characters or patterns in opaque or translucent vinyl films or reflective sheeting to build the necessary signs.
You can watch a video of our director, John Halikowski, try his hand at making signs both ways during a visit to the shop several years ago.
The shop, on average, produces 300 to 400 signs a month. A routine order takes roughly 15 days on average to turn out. But Shop Superintendent Marvin Phillips says that in cases where a sign is missing or a highway has a long-term closure, an expedited request can be fulfilled within 24 hours. That was the case is 2013 when a landside closed a section of US 89 in northern Arizona and detour signs were needed pronto.
"If we are in a rush and have a lot to do, we can do that," Phillips said.
Adding a new highway sign is about more than designing and manufacturing it, Phillips said. The sign has to be installed right so it can stand up to weather, wind and strong drafts created by passing vehicles, especially semis.
The various components that make up a new sign are rated to last a dozen years or so, but Phillips said there are many on the freeway that are well beyond that and still looking good.
How much difference can a traffic sign make? Well, new signage was part of an ADOT project along westbound US 60 approaching Interstate 10, which, along with new lane striping, resulted in a noticeable decrease in the number of crashes along that corridor.