Take an aerial tour of ADOT's progress at Bell and Grand
Take an aerial tour of ADOT's progress at Bell and Grand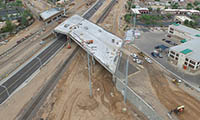 By Steve Elliott / ADOT Communications
Thanks to the city of Surprise for sharing this aerial video of the overpass and interchange under construction at Bell Road and Grand Avenue (US 60).
It offers an excellent view of the project's focus leading up to reopening Bell Road in November. The deck is nearing completion in the sections supported by girders, and stabilized earth that will carry the roadway is rising behind retaining walls at each end of the Bell Road bridge.
So what about that space at the center of the bridge? Crews are now building retaining walls that will hold stabilized earth to create ramps to and from Grand Avenue and support the center section of the bridge. You can see these walls rising to the left of the Grand Avenue lanes that both directions of traffic are sharing for now and to the right of what will be the eastbound lanes of Grand Avenue.
This $41.9 million project remains on track to reopen Bell Road for the start of the holiday shopping season. All work is scheduled for completion in the spring.
For now, a convenient detour via Dysart, Greenway and Litchfield roads is providing access to area businesses.