Take a look: New signs easier to read
Take a look: New signs easier to read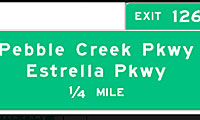 Drivers along eastbound Loop 202 might notice something's different on their Monday morning commute – but it's going to take a very perceptive eye to catch the change.
This weekend ADOT is installing signs with a brand new typeface on the Red Mountain Freeway between Loop 101 and Country Club Drive. Although the change is slight, the new signs should be a little easier to read!
Over the past half-century road signs have utilized a font type called Highway Gothic. In an effort to make highway signs more legible without increasing the actual size of the signs, the Federal Highway Administration approved the use of a new typeface called Clearview in 2004.
The new font uses modified letter forms to increase the distinctiveness of each letter. In fact, Clearview lettering is up to 16 percent more legible than its predecessor Highway Gothic.
Research shows that it helps older drivers recognize the sign's words without increasing the actual size of the sign. Many drivers perceive the letters to be noticeably crisper and clearer.
The glare a driver experiences is greatly reduced when viewing the text at night with headlights which is another important benefit. This is accomplished through allowing more green space between each letter.
Many Phoenix residents and travelers have already benefited from the new highway signs, with recent additions along I-17 from Camelback Road to Northern Road and from Thomas Road to the stack (I-10/I-17). 
ADOT began swapping out the old style signs in the greater Phoenix metropolitan area in 2005. As the useful life of the aging signs nears an end, ADOT replaces them with the easier-to-read signs.
 
Take note, Loop 202 will be closed between the Loop 101 and Country Club Drive beginning 10 p.m. Friday May 20 through 5 a.m. Monday, May 23 for the sign replacement. If you plan on traveling in the East Valley this weekend, you could consider exiting Loop 101 to eastbound McKellips Road to reach Country Club Drive and Loop 202 beyond the closure.