A tale fit for Halloween: ADOT's bat man to the rescue
A tale fit for Halloween: ADOT's bat man to the rescue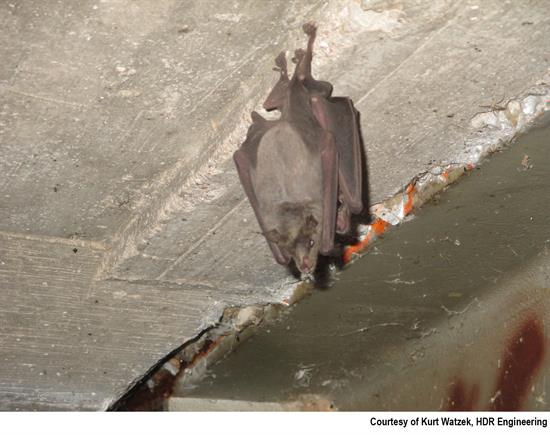 By Tom Herrmann / ADOT Communications
Just in time for Halloween, we have a not-so-scary tale of bats, a bridge project and an ADOT biologist.
It begins a day or so after Labor Day, just before crews are to start rebuilding the State Route 92 bridge over the San Pedro River between Sierra Vista and Bisbee, Arizona Department of Transportation crews make one last check under the bridge to be sure we're good to go.
We were not. Two lesser long-nosed bats had made a temporary home under the bridge. The photo above shows them in their perch.
The bats are an endangered species, which means we had to stop most work to avoid disturbing them. Most of the time, these migratory bats head to Mexico and farther south well before Labor Day, but our friends decided to hang out a little longer in southern Arizona.
ADOT and the Federal Highway Administration, in consultation with the U.S. Fish and Wildlife Service, decided it would be best to wait until cooler weather encouraged the bats to move on. Our best estimate for that to happen was mid-November.
Enter Josh Fife, a biologist with ADOT Environmental Planning who made several visits to the remote, 61-year-old bridge to check on the bats. The other day, he noticed that they appeared to have flown on. After three straight bat-free days, he gave the OK for work to resume.
In addition to protecting the bats, Fife's checks saved a month of delays on the project, which is expected to be complete by early summer, and the costs associated with waiting.
As Bill Harmon, ADOT's district engineer for southeast Arizona, put it, "Josh batted 1.000 on this one."