Taliesin West field trip helps give South Mountain Freeway a Frank Lloyd Wright touch
Taliesin West field trip helps give South Mountain Freeway a Frank Lloyd Wright touch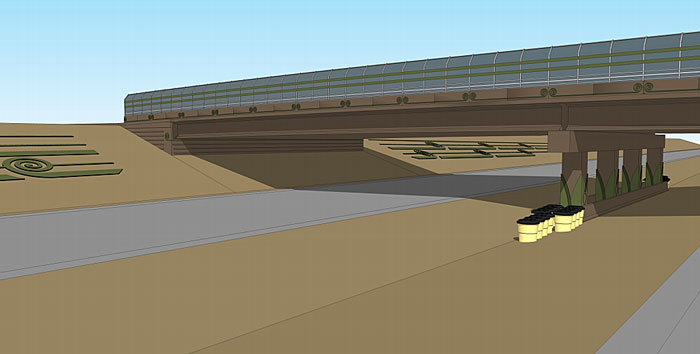 By Dustin Krugel / ADOT Communications
In early November, the Frank Lloyd Wright Foundation invited the Loop 202 South Mountain Freeway developer, Connect 202 Partners, and ADOT's landscape and architect team to Taliesin West, nestled in the foothills of the McDowell Mountains in Scottsdale.
Taliesin West, modern architect Wright's winter home from 1937 until his death in 1959, is now home to the Frank Lloyd Foundation and Frank Lloyd Wright School of Architecture. It's a prime example of how Wright's designs mesh with the Sonoran Desert.
Wright had a strong connection to South Mountain. In the late 1920s, he created the "Ocatillo Desert Camp" in what is now the Ahwatukee Foothills. At the camp, Wright and his colleagues worked on designs for resort proposed for the base of South Mountain, a project that was abandoned after the 1929 stock market crash.
Nearly a century later, some of Wright's design influences will be incorporated into the aesthetic treatments of the South Mountain Freeway. That includes Wright's frequent use of horizontal lines/ Sound walls and retaining walls will have horizontal lines, in contrast with the vertical lines on other Valley freeways.
You can see an example of these horizontal lines in the preliminary design rendering at right.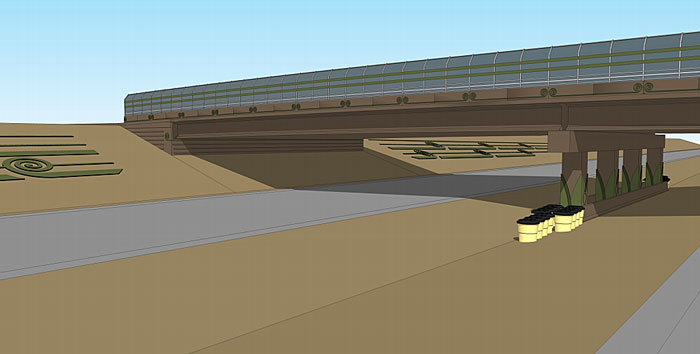 After holding a meeting at Taliesin West to refine design plans for the South Mountain Freeway's sound walls, bridges and other structures, participants got a behind-the-scenes look at this national historic landmark and drew further inspiration of Wright's designs.
The 160-acre property includes several examples of the horizontal lines that Wright liked to use.
Leading the tour was architect Victor Sidy, the former head of school and dean of the Frank Lloyd Wright School of Architecture. Sidy is representing the Frank Lloyd Wright Foundation in its collaboration with ADOT and the developer.
"These horizontal lines evoke a sense of motion, a perfect complement to the energy of a freeway," Sidy said. "As one travels through the length of the freeway, these lines will serve as a connective thread that will narrate a story of transition from the city to the natural desert and back to the city."