Teen driver safety: Starting the conversation with your children
Teen driver safety: Starting the conversation with your children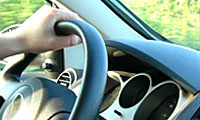 It is National Teen Driver Safety Week and while teenagers might view a driver license as their key to independence, parents and guardians know these new drivers still need plenty of guidance and support…
Inexperience behind the wheel, speeding, seatbelt use and distractions are all factors that put teens at a high risk for involvement in a serious or fatal crash.
The good news is that parents who talk with their teens to establish safe-driving habits truly have a positive impact. According to information from the National Highway Traffic Safety Administration (NHTSA), surveys indicate that "teenagers whose parents impose driving restrictions typically engage in less risky driving and are involved in fewer crashes."
Getting the conversation started
Knowing where to begin the discussion can be tricky. Luckily, there are a number of resources designed to help parents in their approach.
Launched in 2013 to encourage a dialogue between parents and children, NHTSA's "5 to Drive" campaign outlines these five crucial rules for teen drivers:
1. No drinking and driving.
2. Buckle up. Every trip. Every time. Front seat and back.
3. Put it down. One text or call could wreck it all.
4. Stop speeding before it stops you.
5. No more than one passenger at any time.
For each of the five topics, the NHTSA offers up facts and strategies that may come in handy as you and your teen talk about future driving habits. You can find more information about the "5 to Drive" campaign at safercar.gov.
Another good source of information is the Arizona Driver License Manual. When you review it with your teen driver, you may want to pay close attention to the requirements for graduated instruction permits and driver licenses.
And don't forget, you can and should always set a good example for your future drivers, no matter what their age. That means adhering to the rules of the road, buckling up, obeying the speed limit and refraining from cell phone / mobile device use while driving.