Tentative Construction Program is ready for public comment
Tentative Construction Program is ready for public comment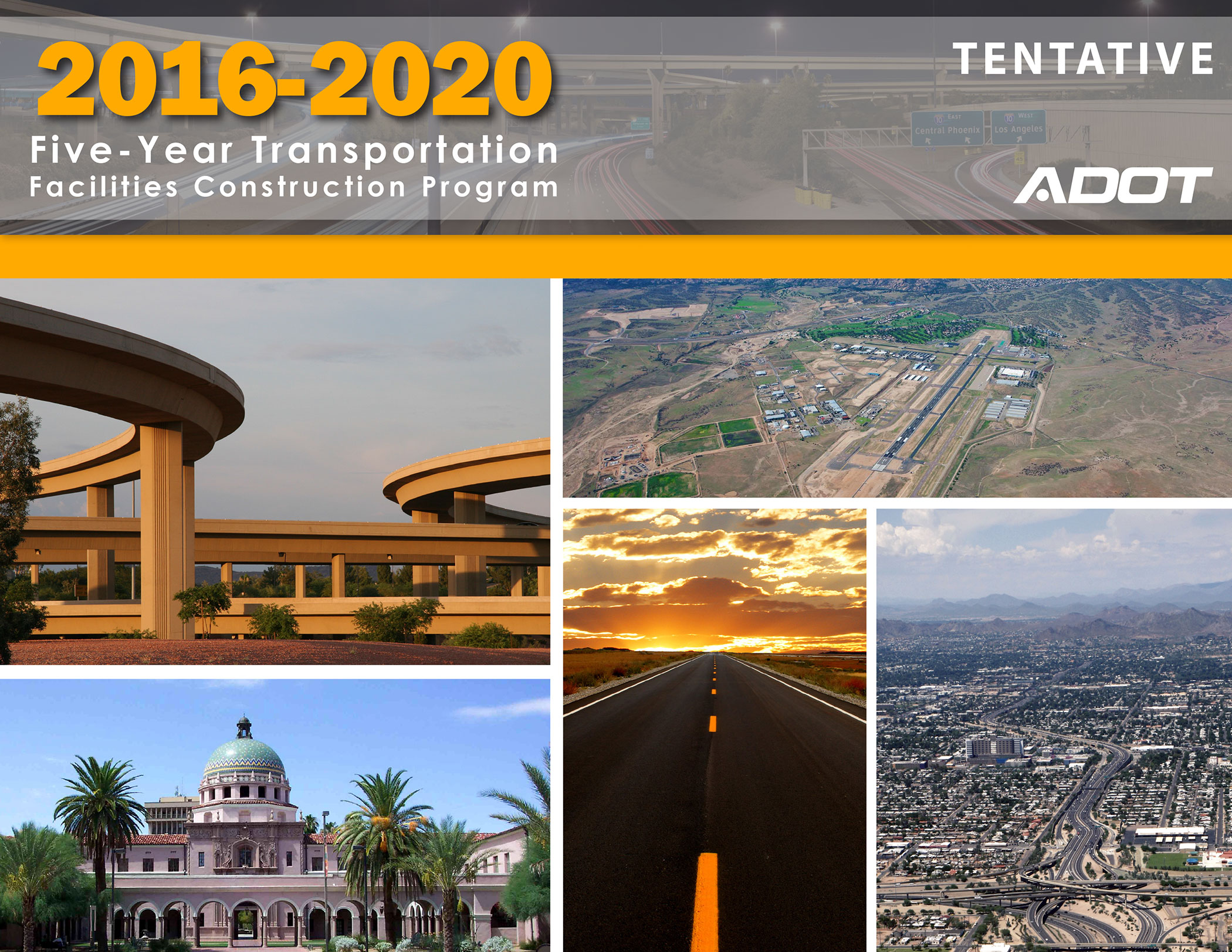 It's that time of year again…
Time for you to review and offer feedback on ADOT's Tentative Five-Year Transportation Facilities Construction Program.
This is the plan that acts as a blueprint, detailing where, when and how funding (that includes regional, state and federal money) will be spent for future ADOT projects. It gets updated annually and when finalized, it helps ADOT to prioritize which projects move forward first.
2016-2020 program focuses on preservation
Limited funding amid growing statewide transportation needs continues to be the biggest challenge over the next five years. Fewer dollars dedicated to transportation is a result of less revenue from traditional sources of transportation funding, like the state gas tax and vehicle license tax, which support the Five-Year Program. The state gas tax is currently 18 cents per gallon and has not been increased for more than 20 years.
These transportation funding challenges have signaled a shift to a strong focus on the preservation of the state highway system, to protect a system valued at $19.7 billion. If ADOT did not invest in preservation, it would cost approximately $200 billion to replace our existing highway infrastructure, should it fall into disrepair. ADOT is committed to moving major expansion projects forward as well, but with less transportation dollars to stretch, fewer expansion projects make it into the Five-Year Program.
A series of public hearings kicked off in Tucson earlier today. Below are the details for each of the remaining public hearings and the June meeting at which the State Transportation Board is expected to adopt the final 2016-2020 Five-Year Program:
April 17 at 9 a.m.: Public hearing and board meeting in the ADOT Administration Building Auditorium, 206 S. 17th Avenue, Phoenix, AZ 85007
May 15 at 9 a.m.: Public hearing and board meeting in the Town of Chino Valley Council Chambers, 202 N. State Route 89, Chino Valley, AZ 86323
June 19 at 9 a.m.: Board meeting at the Pinetop-Lakeside Town Hall, 1360 N. Niels Hansen Lane, Lakeside, AZ 85929
All comments received by 5 p.m. May 26 will be included in the official record, so now is the time to give your feedback. More information can be found on the ADOT website.