At Texas Canyon, a first impression of Arizona
At Texas Canyon, a first impression of Arizona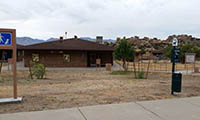 By Tom Herrmann / ADOT Communications
June 3, 1983. I'm not sure why I remember the date, but that was the first time this boy from the Midwest ever saw Arizona.
The introduction took place in Texas Canyon, a rest area east of Benson. I stepped out of my car – vinyl seats, no air conditioning – and immediately thought I had fallen into a Road Runner cartoon. Big round rocks. Cactus. I'm pretty sure Wile E. Coyote was hiding behind the biggest rock, a string attached to the ACME rocket that would propel it to the road below.
Over the next three hours, driving through Tucson and Casa Grande to reach Chandler, I saw things you can't find in Ohio. The same happened a month later on a drive through Flagstaff to the Grand Canyon.
Texas Canyon reopened this week following six months of renovations. It's just one ADOT rest area of 17 around Arizona. Hearing the name reminds me that although I had never seen Arizona before that summer afternoon 33 years ago, when I saw Texas Canyon I knew I was home.