They're keeping Arizona grand by adopting high country highways
They're keeping Arizona grand by adopting high country highways
By Caroline Carpenter / ADOT Communications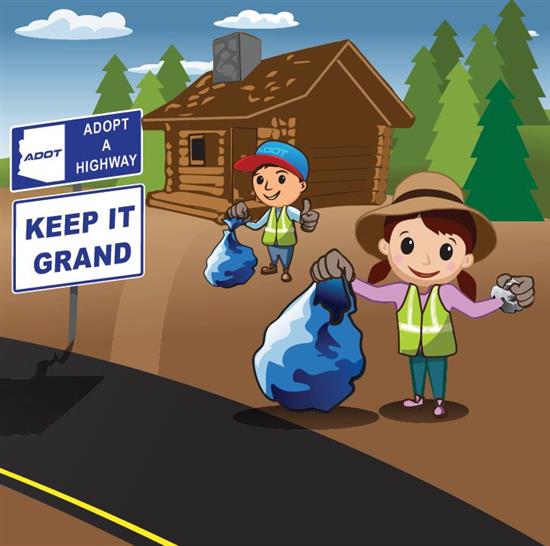 Many of us think of escaping to the White Mountains at this time of year, but not everyone thinks about getting out of town to pick up trash along a highway. 

Fortunately for those who enjoy trips to Arizona's high country, there are volunteers helping keep highways clean when they're getting away from it all. Two of those volunteers recently shared their love for the mountains and for loved ones they honor through ADOT's Adopt a Highway volunteer program. 

Deb Givler adopted a highway segment more than 15 years ago after her husband, Chris, passed away. Chris used to bring Deb to the White Mountains where they dreamed of having a cabin. They later brought their two sons to the White Mountains. As Deb tells us, "It's a good place to bring boys." 

After Chris died, Deb wanted to honor him and remembered he would always pick up trash on their fishing trips. Deb initially adopted a highway near Overgaard. Now she picks up litter along State Route 260 near McNary. It's less than 10 miles from her cabin but nearly 200 miles from her home in Phoenix. Deb used to do the cleanups with her sons, but now that they're in college she often does it by herself. She says it gives her time to think about and remember Chris. 

Deb believes it's up to all of us to take care of the area and we shouldn't expect someone else to do it. "A lot of people have cabins up in the mountains, why not do something to honor your family?" she says. 

Another Adopt a Highway volunteer, Michael Stafford, says cleaning up a highway in the mountains is a good way to spend some time alone and get peace of mind. 

Michael used to travel from his home in Scottsdale to volunteer with his significant other, Charlene Sipe. Around 2001, Charlene adopted a mile along US 191 north of her Nutrioso cabin to honor her late husband, Dennis, and his best friend. Their Adopt a Highway sign reads "In memory of two good old boys." 

Before Charlene passed away in early July, Michael would help Charlene and her son, James, pick up trash along their mile in front of the Sipe White Mountain Wildlife Area. Now that Charlene is gone, Michael plans to continue the cleanups as a way to honor Charlene. 

If you would like to keep the area around your Arizona cabin clean or want a way to remember and honor a loved one, please visit to the Adopt a Highway website to pick out your mile.