Thinking about a construction career? Consider ADOT's Construction Academy
Thinking about a construction career? Consider ADOT's Construction Academy
By John LaBarbera / ADOT Communications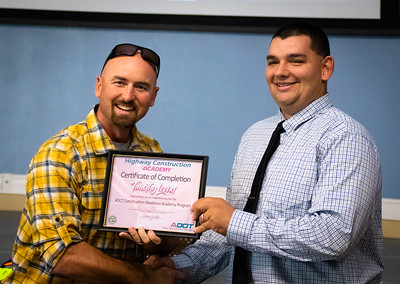 If you've been thinking about a career in construction, ADOT's Construction Academy may be right for you. Applications are currently being accepted for training programs in February and March. This full-time, two-week program prepares students for highway construction jobs and apprentice programs.
"It was the best program ever. I loved it!" – Shawn Mosley, Construction Academy graduate
ADOT's free Construction Academy gives women, minorities, veterans and the underprivileged a chance to earn the skills necessary to enter the construction industry. In fact, our academy training in March is open to women applicants only.
Through this program, you'll receive training in construction math, learn how to read a construction plan and get commercial driver license permit training. You'll also earn certification to work as a flagger on highway projects and get a 10-hour OSHA training certification.
"By going through this school, it improved my skillset and made me more marketable for an entry-level construction job." – James Randolph Jr., Construction Academy graduate
The academy also features a course dedicated to work readiness in which you'll work on resume-building and hold mock interviews to get you ready for your next career move.
On the final day of the academy, ADOT invites contractors to a career fair held for the graduates. At the conclusion of the last academy in November (there are photos from it at right), every graduate who attended the career fair had an interview extended.
"My favorite part of the course was meeting all the contractors. You won't get that anywhere else." – Paul Bellicini, Construction Academy graduate
Are you next? Sign up for the next Construction Academy programs at azdot.gov/academy.