With three specialty plates coming, more worthy causes will benefit
With three specialty plates coming, more worthy causes will benefit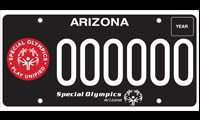 By Doug Nick / ADOT Communications
There are three new options coming to the dozens of specialty plates available through ADOT's Motor Vehicle Division.
As of Monday, Dec. 19, you can show your support for Special Olympics, Route 66 or Grand Canyon University – and benefit worthy causes in the process. The Special Olympics plates will support that organization's programs, while Route 66 plates will support historic preservation and Grand Canyon University plates will help provide academic scholarships.
How much of a difference do specialty plates make for those causes? Our news release adds it up: $66 million in total revenue since fiscal 2007 alone. And keep in mind that specialty plates have been around much longer than that.
Of the $25 cost per year for a specialty plate, $17 goes to a designated group or cause.
If you're interested in getting a specialty plate, you can see the full list and even order yours online at ServiceArizona.com.
If you want a look at the three plates available as of next week, click on the video above embedded from the ADOT Facebook page.