Three tips for a successful Labor Day road trip
Three tips for a successful Labor Day road trip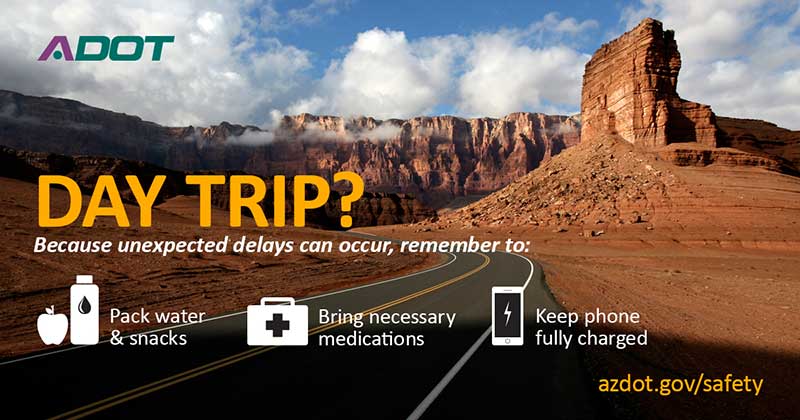 By Caroline Carpenter / ADOT Communications
The Labor Day holiday weekend often means packing up the family for one last summer road trip. Have fun if you to take that trip, but make sure you're prepared in case you encounter problems while on the road.
Unexpected road closures or a mechanical issue with your car can put a damper on your weekend plans. While you can't control when these things happen, you can be prepared just in case.
Pack water and snacks
The No. 1 thing you should always have in your car is water – and plenty of it. It's always a good idea to put that water in a cooler to keep it cold or add several frozen water bottles for cooling off or to thaw and drink. Avoid getting hungry by having extra snacks on hand. A healthy snack can go a long way to calming your kids if your family gets stuck on the road for an extended period.
Bring necessary medication
No matter how long or short your road trip, it's always a good idea to have your necessary medication on hand. A medical emergency is the last thing you want while on a trip.
Keep phone fully charged
If you're delayed because of a road closure or another unexpected event, a charged cellphone will allow you to call emergency crews, check the status of a traffic incident and keep your family updated on your whereabouts.
Before you leave home, remember to visit the Arizona Traveler Information site at az511.gov to see if there are any issues with your planned route.