Throwback Thursday: 90 years and a bottle of ginger ale
Throwback Thursday: 90 years and a bottle of ginger ale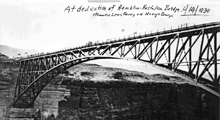 By David Rookhuyzen / ADOT Communications
What does ginger ale have to do with Arizona transportation history?
To answer that, we have to throw back; to June 14, 1929. That's the date, just a hair more than 90 years ago, when the Grand Canyon Bridge – today known as the Navajo Bridge along US Route 89A – was dedicated. We know the photo above says 1930, but that's a mistake.
Believe or not, but at the time this was the only bridge over the Colorado River along a 600-mile stretch of the river between its confluence with the Green River in Utah and Topock Gorge (north of Lake Havasu City) in Arizona.
Before construction, all travel usually went over Lee's Ferry at the bottom of Marble Canyon. But with the invention and proliferation of the automobile, a more suitable way of getting over the river was needed. A bridge at Marble Canyon was first conceived by the Arizona Highway Department in 1923.
Though actually completed and taking traffic in January 1929, the ribbon-cutting for the bridge was a boisterous affair complete with speeches from Heber J. Grant, president of the Church of Jesus Christ of Latter-day Saints, as well as the governors of Arizona, New Mexico and Utah; bands, choral groups and Native American dancers; and nearly 7,000 spectators in more than 1,200 automobiles.
And – to answer our own question – the bridge was reportedly christened with a bottle of ginger ale because Prohibition was still in effect at the time.
The structure still exists today, though it's been a pedestrian bridge since 1995, when a new vehicle bridge was built 150 feet downstream to handle modern vehicles that are wider and heavier.
We've done blog posts about the bridge before, including this before-and-after view. And, if you are interested, you can also find a more detailed history of this important structure from the National Park Service. And maybe think about popping open a can of ginger ale as you read to get a taste of what the dedication was like.