Throwback Thursday: A balanced approach
Throwback Thursday: A balanced approach
By David Rookhuyzen / ADOT Communications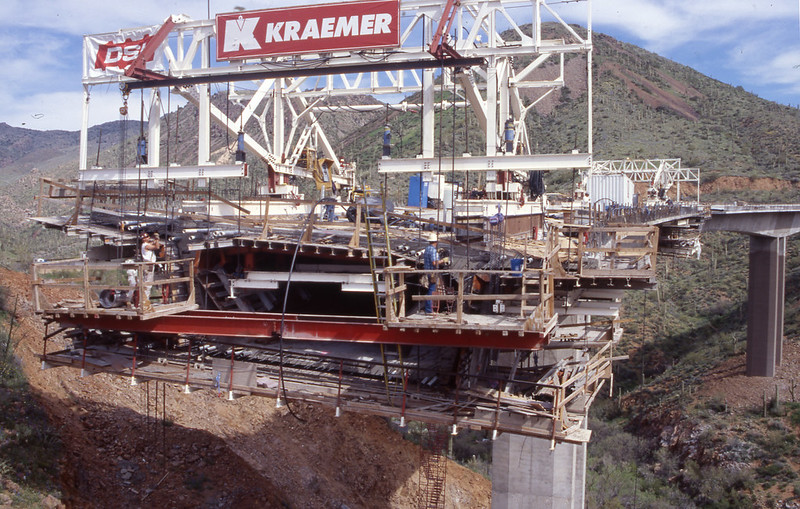 We didn't have to search too far back to find this interesting shot of a bridge in the process of being built.
Drivers who travel between the Phoenix area and Payson may have no difficulty recognizing this as the State Route 87, known as the Beeline Highway. The photo comes from 1998 in the middle of a project to upgrade SR 87 to four-lane divided highway. The bridge that would eventually support the highway is being built using segemented construction. Basically, the bridge is built bit by bit with cast-in-place concrete segments that are added on using a specialized casting machine. That's the big white rigging you see there.
You'll notice, however, that there is a second machine in background on the other side of the bridge being built. The same work is happening on that end in what is known as cantilevering. Basically, segements are being added out from the supporting pier on both sides either simultaneously or in alternating turns to keep the entire structure in balance. Eventually all segements are connected and you have one, long bridge to drive across. In this case, the photo appears to be of the Screwtail Bridge, just south of Sunflower, which wound up being an impressive 1,080 feet, spanning a 105-foot-deep canyon. 
This innovative method was needed because the terrain between Phoenix and Payson is pretty rugged, as reflected in some of the curves and grades of the road's original alignment. By building bridges this way, ADOT was able to straighten and flatten the roadway a bit while also widening it and making sure to steer clear of sensitive riparian areas and wildlife corridors.