Throwback Thursday: The dawning of Sunset Point
Throwback Thursday: The dawning of Sunset Point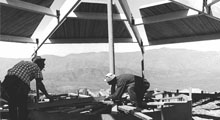 By Angela De Welles / ADOT Communications
As any road-tripper can tell you, not all pit stops are pleasant.
Fortunately for motorists driving to and from northern Arizona, there is Sunset Point Rest Area – a well-maintained facility that's a true gift for travelers in need of a break.
Located off of Interstate 17, just south of Cordes Junction, Sunset Point has served millions since the Arizona Highway Department opened it to travelers back in 1970 (the photo show its construction in May of that year).
Only a year later, Sunset Point was selected from 70 entries representing 28 states to be named the nation's "Outstanding Safety Rest Area with Sanitary and Other Facilities" in a competition sponsored by the Federal Highway Administration.
According to the February 1972 issue of Drumbeats, the department's employee newsletter at the time, the national award earned Sunset Point widespread recognition, including an editorial page cartoon in the Arizona Republic. Drumbeats also reported that KDKA-TV in Pittsburgh showed its viewers "color pictures of the Sunset Point Rest Area in a campaign to upgrade Pennsylvania's rest stops."
Today, Sunset Point is one of the state's most popular places to stop. Besides restrooms, vending machines, ramadas and a picnic area, the location offers a beautiful view of the Bradshaw Mountains. It's also where ADOT's memorial to fallen employees was built in 1997.