Throwback Thursday: A snow-saturated Flagstaff
Throwback Thursday: A snow-saturated Flagstaff
By John LaBarbera / ADOT Communications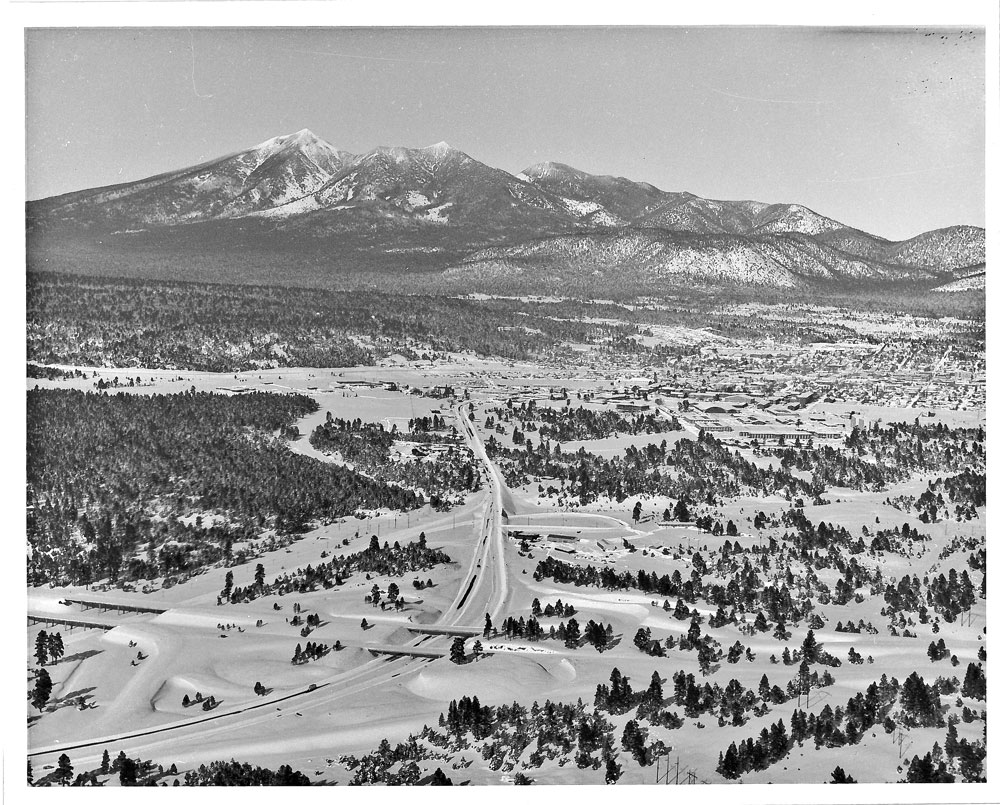 Today, in the midst of triple-digit temperatures throughout the state, we throwback to a frosty winter's scene in 1967 Flagstaff, showing what is today Interstate 17 meeting Interstate 40. 
Of course, at the time, the road that would become I-17 was still known as State Route 79. It officially upgraded to interstate status in 1971. And I-40 would not be formally christened in Flagstaff until 1968, a year after this photo was snapped. The entire stretch across the state would be completed in 1984.
Immediately, our eyes are drawn to the snow-capped San Francisco Peaks, rising majestically over the City of Seven Wonders to a maximal apex of more than 12,600 feet.
And just below the peak, on the right side of the frame, we see the streets of downtown Flagstaff to the north, and an evergreen-shrouded Northern Arizona University immediately to its south. Not pictured: The Walkup Skydome, which wouldn't break ground for another eight years, opening in 1977.
Nestled in the hills just west of downtown, is Lowell Observatory. At the time this photo was captured, Lowell was playing an integral role in the Apollo moon landing mission. The once-but-sadly-no-longer-a-planet Pluto was discovered there in 1930. Lowell Observatory sits atop Mars Hill… perhaps a glimpse into future discoveries.
Today, there are fewer trees and more shopping centers in the area immediately surrounding Milton Road, the street I-17 becomes after crossing I-40. But there are still plenty of ponderosa pines that peek down on visitors.
Currently, we have two ongoing I-40 projects in the Flagstaff area, and even more the further away we go. Meanwhile, I-17 has a slew of projects on deck in our Tentative Five-Year Construction Program.
So, while it continues to heat up in the Copper State this summer, we can lose ourselves in this refreshing glimpse of a time much cooler.