Transportation Defined: Mile Markers
Transportation Defined: Mile Markers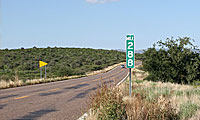 All Arizona state highways have mileage markers.
These reference "posts" are set two feet off the right shoulder and are about one mile apart.
Mile posts can be used to tell where you are located if you are involved in a collision, have mechanical problems, or are out of gas. If you have to stop, note the route you are on and the approximate distance from a mile post.
Transportation Defined is a series of explanatory blog posts designed to define the things you see on your everyday commute. Let us know if there's something you'd like to see explained ... leave a comment here on the blog or over on our Facebook page!