Transportation Defined: Reclaimed Asphalt Pavement
Transportation Defined: Reclaimed Asphalt Pavement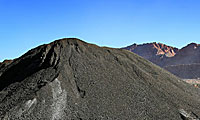 You've likely recycled plastic, glass, paper, maybe even your old electronics, but did you know ADOT recycles its old asphalt pavement?
Known as Reclaimed Asphalt Pavement (or, RAP if you're short on time), this material is old asphalt pavement that has been ground up for use in the production of new asphalt pavement.
How it's used
Once the asphalt pavement has been milled off the old roadway, it goes to an area where it is run through various screens in order to separate out the appropriate sized pieces – this is all done according to the new pavement's specifications.
When the proper sized pieces are sorted out, the material can be mixed in with the new aggregate (rocks).
Besides being sorted for size, the RAP material also undergoes testing to determine how much asphalt (which is a binder) is still attached to each piece of aggregate because the binder is being recycled, too.
Why recycle?
ADOT allows 15 to 25 percent of some new pavements to be made up of reclaimed material.
By recycling the old asphalt pavement, less new aggregate and binder (asphalt) will be needed. That means the contractor doesn't have to crush or haul as much new aggregate and since those costs are part of the contractor's bid, those savings are realized by ADOT (and the taxpayers).
The same goes for the binder (asphalt) that's used in the new mix. If an asphalt mix design calls for 5 percent binder, and 1 percent of that can come from the reclaimed material, then ADOT only has to pay for 4 percent. Typically, binder costs about $500/ton and some projects can require 2,000 - 3,000 tons of binder (another cost savings!).
RAP on the roads
Right now, RAP is being used for the N20 paving project. About 15 percent of the new pavement mixture will be recycled from asphalt millings off of an I-40 pavement project.
Transportation Defined is a series of explanatory blog posts designed to define the things you see on your everyday commute. Let us know if there's something you'd like to see explained ... leave a comment here on the blog or over on our Facebook page!