The transportation why behind Why, Arizona
The transportation why behind Why, Arizona
By David Rookhuyzen / ADOT Communications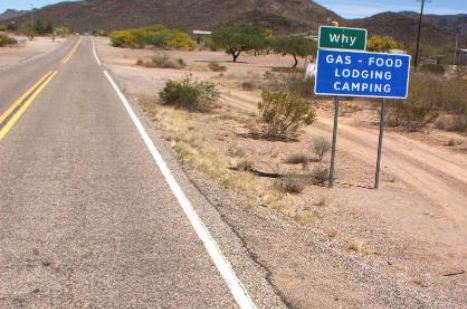 Good ol' Why, Arizona.
This unincorporated community in southern Arizona of just over 160 people (as of the last census) always ranks high on the list of weird town names in Arizona, and often makes the list for the most unusual place name in the country.
So what does an off-kilter town name have to do with transportation? There are a couple of theories about the name's origin that float around, but, believe it or not, the most repeated answer comes down to highways.
Why sits at the junction of state routes 85 and 86 in southwestern Arizona, just north of the Organ Pipe Cactus National Monument and the Tohono O'odham Nation. Back in the day, that intersection was a "Y" intersection. According to some sources, people in the area got used to saying they lived at "the Y," referring to this junction.
When the community was big enough to warrant a post office, residents told authorities that their community was called "Y."
The only hiccup was the law required all communities have a name consisting of at least three letters. So residents came back with "Why." Same sound and just the right number of letters. Problem solved.
Years later, the intersection of state routes 85 and 86 was moved slightly south and reconfigured for safety, removing that "Y" naming impetus all together. 
But that legacy lives on every time someone heading to or from Rocky Point sees a sign with the community's name and stops to ask: "Why?"