Trick-or-treating as a highway sign? We 'like' that
Trick-or-treating as a highway sign? We 'like' that
By Laurie Merrill / ADOT Communications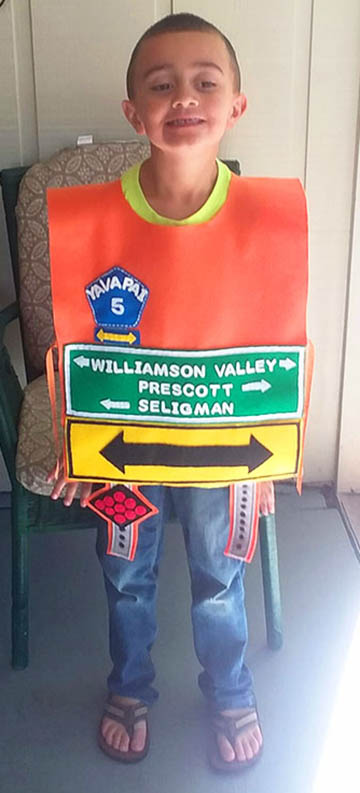 All young Hunter Vincente of Chino Valley wanted to be for Halloween is a highway sign.
After all, he's obsessed with them, spending hours a day drawing them from memory and frequently asking his mom to visit – and pose for photos with – some of his favorites.
It didn't take much encouragement for his adoring  great aunt, Monica Rodarte, to ply her talent for sewing and create a costume of Hunter's dreams. She hand-stitched copies of Hunter's most beloved signs and sewed them atop an orange reflective vest she made in the style of ADOT road workers.
When Rodarte shared the picture at right with our Facebook page, we had to find out more. After all, this ingenious costume bears a replica of a green and white road sign showing directions for Williamson Valley, Prescott and Seligman. There's also a double arrow on a yellow background, along with a blue pentagon saying "Yavapai 5."
Rodarte says her passion for sewing matches Hunter's for road signs. She has always taken great delight in sewing costumes for children, grandchildren, nieces and nephews. She even makes an annual costume for a giant giraffe statue on her father's front lawn.
As a small child, Hunter's mother, Shannel Vincente, went through a phase when she was fascinated with weddings.
"One year I made her a wedding dress for a costume," Monica said of Shannel. "She was so pleased!"
This year, in addition to the usual superheroes, Disney princesses and witches, Hunter will be trick-or-treating as his favorite thing: a highway sign.
And the aunt who made  it? She's busy with the giraffe costume.