Truck escape ramps serve important safety role
Truck escape ramps serve important safety role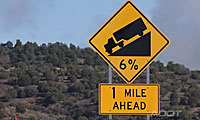 If you've always wondered how truck escape ramps work, today's your lucky day.
We have a brand new video to share that illustrates how the ramps can effectively stop a truck or vehicle that has lost use of its brakes. The video also explains why ADOT installs the ramps on projects like the one on SR 87.
"Every time a runaway truck ramp is used, it reduces crashes, it reduces road closures, it reduces injuries and possible fatalities," says ADOT Senior Resident Engineer Thomas Goodman in the video. "At ADOT, safety is the No. 1 priority and this is just another method to help keep the traveling public safe."
After you're done checking out the video, please revisit this post from nearly two years ago for even more truck escape ramp details.