Two Adopt a Highway volunteers hang up their reflective safety vests after 14 years
Two Adopt a Highway volunteers hang up their reflective safety vests after 14 years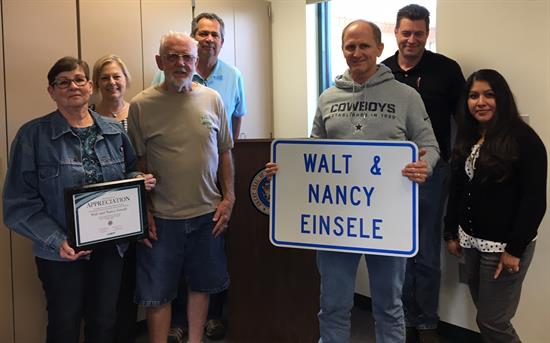 By Mary J. Currie / ADOT Communications
It's a pretty good day when you can be part of something bigger than yourself and something that leaves a positive mark. That is exactly what some employees with our Northwest District office in Prescott did recently by thanking a lovely couple from Kirkland Junction for their volunteer service.
Walt and Nancy Einsele dedicated 14 years of service to their community and ADOT as Adopt a Highway volunteers. They made a great team, and their efforts made a big difference in litter reduction at milepost 295 and the surrounding area on State Route 89 near Wilhoit.
If Walt had his choice, he would still be out there cleaning, but for health reasons he had to retire his permit with the district.
We welcome volunteers who would like to fill Walt and Nancy's shoes, and the community would welcome you too.
For more information about the Adopt a Highway volunteer program in all parts of Arizona, please contact us using the phone numbers on the Adopt a Highway District map. You can learn more about the program at azdot.gov/AdoptAHighway.
---
EDITOR'S NOTE: The author oversees ADOT Adopt a Highway programs.