Understanding the Energy Efficient Plate and Alternative Fuel Vehicle programs
Understanding the Energy Efficient Plate and Alternative Fuel Vehicle programs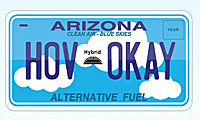 *** UPDATE (5/6/15) *** The availability of energy-efficient license plates for owners of qualified vehicles has ended as the maximum number of plate applications has been reached.
Please see our recent blog post for the latest.
We've blogged about the Energy Efficient license plate program a couple of times in the past few months (you might remember THIS blog post or THIS one). Today, we're at it again. We don't have much to say on the subject, but we do have something to show you...
The infographic below is intended to help explain the Energy Efficient Plate and Alternative Fuel Vehicle programs. Check it out for a good overview of the two programs. As always, you can visit our MVD website for more details on both the Alternative Fuel Vehicle program and the Energy Efficient Plate program.
*** UPDATE *** This infographic has been updated since it was first published. The update includes the addition of qualifying 2015 vehicle models. More information can be found on our website.