US 89 Cameron roadway improvement project progresses
US 89 Cameron roadway improvement project progresses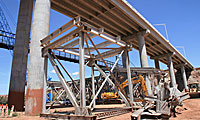 We've been following the US 89 Cameron roadway improvement project pretty closely here on the blog.
You might remember our last post described how crews were just beginning to remove the Cameron Truss Bridge, a 57-year-old structure that spans the Little Colorado River. Rather, we should say used to span the Little Colorado River because, as you can see from the newest project photos at right, the bridge is now gone.
Since this was a steel arch bridge, things went down a little differently than some of the other demolitions we've covered. Crews actually had to "cut" the bridge into pieces to disassemble it. Right now, those pieces are in the process of being hauled off site.
Just to give you an idea of how big a task this is, here's an excerpt from Arizona's Historic Bridge Inventory, explaining the bridge's size (plus a revealing look at what things cost back in the 50s):
"In August 1957 Arizona Highway Department awarded a contract for the bridge's construction to the Vinson Construction Company of Phoenix. The contractors started work on the bridge that summer, completing it the following year for a cost of over $500,000. The Cameron Bridge was massive, consuming over 2,500 cubic yards of concrete and 1.2 million pounds of structural steel."
Removing the bridge (and replacing it with two new bridges) is just part of the project...
Work started in March 2014 to expand US 89 from two lanes to four lanes through the community of Cameron between State Route 64 and the Little Colorado River (mileposts 464-467). Additional improvements include constructing a roundabout at the existing intersection of US 89 and SR 64, new sidewalks, streetlights and four pedestrian/livestock underpasses.
Crews have already completed the new northbound bridge and pedestrian walkway. The new bridge is being used by north- and southbound traffic.
Right now, northbound construction is pretty much complete including the curb, gutter, sidewalks and lighting along the northbound stretch.
Southbound roadway construction is underway and work on the southbound bridge is expected to start at the end of the month. Crews will begin by drilling foundations and working up from there.
We'll continue to keep you updated on the progress! If you'd like more on the project, please revisit some of our previous posts.