US 89 improvement underway south of Page
US 89 improvement underway south of Page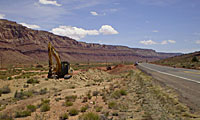 The last time we checked in on US 89 it was to tell you that the stretch of highway, about 25 miles south of Page, was open again after a 2013 landslide called for major repairs...
Today, we've got another US 89 project to tell you about and while it might not be as dramatic as the landslide fix, it's definitely going to bring about an improved driving experience for motorists in the area.
Right now, crews are working on improvements to an eight-mile segment of US 89, about 30 miles south of Page (milepost 510 to 517).
The project includes construction of new passing lanes for both north- and southbound travel (milepost 514 to 515), shoulder widening, resurfacing the pavement and reinforcing bank protection at Tanner Wash.
The project will extend the life expectancy of the roadway and improve traffic flow. Work is expected to wrap up by the end of this year.
What drivers need to know
Both north- and southbound lanes will be open for travel during the project, except when crews are resurfacing the pavement.
While roadway resurfacing is underway, one lane of travel will be closed. Travel for both north- and southbound travel will be accommodated with a pilot car escort through the project area; delays can be expected during this part of project construction.