US 89 reconstruction honored as 'Project of the Year'
US 89 reconstruction honored as 'Project of the Year'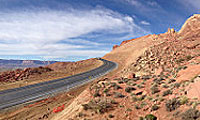 You'd think after 43 blog posts, 26 videos and hundreds of photographs, that we might be out of new things to say about the US 89 landslide repair project.
But we're not!
Seven months after the road reopened to traffic, we have some more news to share...
The US 89 reconstruction project was honored recently by Engineering News-Record Southwest when the publication selected ADOT along with its contractors – FNF Construction for the construction work and AECOM for the design – for the 2015 Project of the Year in the highway/bridge category.
If you've been following along with us for the past couple of years, you know that after the February 2013 landslide forced the closure of US 89 south of Page, ADOT assembled a team of engineering experts to develop the long-term solution for restoring this vital route. The nine-month-long project, which started in July 2014 following extensive environmental and geotechnical work, removed about 1 million cubic yards of earth and rock to realign a 1,500-foot section of roadway and create a rock buttress to help stabilize the area.
You'll also remember that while working on the long-term solution, ADOT paved Navajo Route 20, which was mostly a dirt and sandy road stretching from Bodaway-Gap to LeChee, to serve as the temporary US 89 route. This reduced the length of the original established detour route (US 160 and State Route 98) in half, and served as the short-term solution for motorists heading to and from Page until the US 89 reconstruction was finished.
More about the award
Engineering News Record is a construction and engineering publication that recognizes achievements in the industry. For nearly two decades, the publication has also been recognizing work done specifically in the southwest through a juried, regional Best Projects awards.
"This year, judges recognized the Arizona Department of Transportation and FNF Construction for the US 89 slide reconstruction with a Best Project award in the highway/bridge category," ENR Southwest Regional Contributing Editor John Guzzon said. "Several factors drove the judges to select this project, including overcoming the geographic obstacles, build quality and speed-of-work. When a job includes 73 blasts, 47,000 loads, and hauling 1 million cubic yards of rock on narrow and steep haul roads in a slide area while recording zero OSHA reportable incidents, it makes judges sit up and take notice."