US 89 update
US 89 update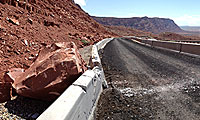 ADOT is continuing its work toward rebuilding US 89 as soon as safely possible and while there's no huge project milestone to share with you at the moment, we thought you might be interested in a quick update…
Here's what's happening right now
The project to restore US 89 remains on the fast track. ADOT is working on the design of the US 89 repair project – it is about 60 percent complete.
As project design continues, ADOT is also addressing environmental issues at the same time. You might remember that we blogged in September about the surveys required under the Clean Water Act. More recently, we showed you the archaeological site surveys being performed at the site.

ADOT has set an internal deadline to finalize the environmental clearance early this year. This is an important step. Without environmental clearance, ADOT is unable to receive federal funds to complete the project.
ADOT also is working with the Navajo Nation to expedite the clearance and approval process. Once the environmental clearance has been completed, the right-of-way needs of the project must be determined. An agreement between the Federal Highway Administration, the Navajo Nation and the Bureau of Indian Affairs must be reached to confer permanent easement.
Where we're headed
ADOT's goal is to start construction by mid-2014, as long as there are no environmental, utility or right-of-way clearance complications. The construction of the projected $25 million repair is expected to take up to 12 months to complete.
Safety is the top priority
We have received some questions about why ADOT is only allowing access through the area to emergency responders and not to local traffic.
Well, the answers all have to do with safety.
As you can see in the photos above, the area is not safe for public travel. Boulders, rocks and the deep chasms left behind by the landslide make this area a not-so-ideal place to hike, bike or drive. That is why ADOT asks the public to remain clear of the landslide site.
US 89T
As ADOT works on fixing the landslide-damaged portion of US 89, drivers already have a new detour route available to them.
In an effort to help ease the 115-mile detour that drivers initially faced after the landslide, ADOT worked with the Navajo Nation, Bureau of Indian Affairs and the Federal Highway Administration to pave Navajo Route 20. That roadway has now temporarily been adopted into the state highway system as US 89T.
It's not the long-term solution, but US 89T has cut the detour route travel time nearly in half.
More to come
ADOT appreciates how critical US 89 is to the region and we know that the lack of a direct route between communities is a hardship for many people. We want you to know that we're working diligently as we move forward with the repairs.