U.S. Bicycle Route to serve as link between states
U.S. Bicycle Route to serve as link between states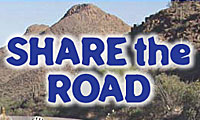 On Wednesday we told you about ADOT's Bicycle & Pedestrian Program, today we want to direct your attention to efforts being made in creating a U.S. Bicycle Route System.
ADOT will play a role in determining some specific routes in the U.S. Bicycle Route System. A partnership between state DOTs, the American Association of State Highway and Transportation Officials (AASHTO), and Adventure Cycling Association, the system is a proposed national network of bicycle routes that span multiple states.
According to ADOT's Bicycle/Pedestrian Coordinator Michael Sanders, three Arizona corridors have been defined. It's up to ADOT to determine specific routes along these corridors to best accommodate long-distance cyclists. Those routes will include cities and towns and will require some coordination.
"It will tie into the local street system, so we will have to coordinate efforts (with local governments)," Sanders said. "We'll be working with all those other entities, plus other states."
Sanders and Richard Moeur, an ADOT traffic design manager and chair of the AASHTO Task Force on U.S. Bicycle Routes, recently met with Ginny Sullivan, USBRS coordinator at Adventure Cycling, for a tour of some potential routes.