Vehicles of ADOT: Boom Axe
Vehicles of ADOT: Boom Axe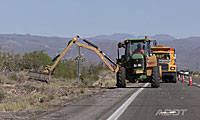 You may think that when it comes to maintaining roads, ADOT's sole focus is on the surface you drive…
But we also pay attention to the areas adjacent to the road and shoulder, sometimes referred to as the recovery zone (basically, it's the area beyond the edge of the road that gives drivers a place to stop or regain control of a vehicle that leaves the road).
ADOT maintenance crews make sure the area is free of trees and brush for a number of reasons, which we'll get to in a minute, but first we want to tell you a little about the tool that helps keep the recovery zone clear.
As you can see in the video above, a boom axe is used by ADOT crews to cut trees and brush. The boom axe, with its long "arm" and spinning blade allows crews to cut down trees and brush without leaving the roadway. This helps when they're clearing areas behind guardrails and other safety features. The boom axe, which is mounted to a tractor, is also capable of cutting larger diameter stems than a typical mower.
Using a boom axe to keep the ADOT right-of-way free of vegetation isn't just for aesthetics – safety is the No. 1 reason we keep the area clear.
Crews maintain the recovery zones so errant vehicles do not collide with larger vegetation if they happen to leave the road.
It also helps increase sight distance – removing vegetation around curves and on the side of the road helps so drivers can see approaching wildlife and other hazards. Additionally, it can help reduce fire danger.
Finally, keeping the right-of-way clear of trees and brush allows our maintenance crews to pull their vehicles off the roadway safely to conduct other maintenance activities without affecting traffic – this is particularly important in areas without paved shoulders.
With more than 6,000 miles of highway to oversee and maintain, ADOT relies on its fleet of trusty vehicles to help get the job done. We're not referring to your everyday trucks and sedans – we are talking about heavy-duty equipment, designed and built to perform some enormous tasks.