Vehicles of ADOT: Cone Trucks
Vehicles of ADOT: Cone Trucks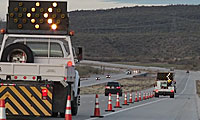 You all know what traffic cones are, right?
They're those orange, cone-shaped (obviously) devices used by ADOT to guide traffic safely through work zones and incident sites.
Honestly, we really didn't think there was much more to say about traffic cones … that is until we saw how they are placed onto the road.
Cone Trucks
Cone trucks are used by ADOT to get cones on the road in a safe and efficient manner. As you can see in the video above, a cone truck requires not only a driver, but another individual positioned in a seat behind the cab of the truck. That person removes the cones from a conveyor belt and is able to quickly and safely place them on the highway.
ADOT's cone trucks carry 60-80 cones and are used by maintenance crews to establish temporary traffic control (think travel lane or shoulder restrictions). Cone trucks also are used by ADOT's Arizona Local Emergency Response Team (ALERT) to assist with traffic control during crashes and other incidents.
According to ALERT Supervisor John Birds, cone trucks come equipped with an arrow board, which is useful because the truck can park within the closure/restriction, activate the arrow board and provide additional direction to drivers.
The vehicles also are outfitted with additional signs that any ADOT crew may need to inform drivers of upcoming work zones, emergency scenes and ramp closures.
Cone Safety
These trucks allow crews to place cones from the safety of the vehicle (instead of having to stand on the side of a busy road).
Many precautions are taken. As you can see in the video, hard hats and reflective vests are worn by ADOT crews. The cone truck is also equipped with flashing lights to warn motorists.
According to Birds, when setting traffic cones from the back of a truck, ADOT crews must ensure that they are safe and that the cones are positioned to reduce the risk of "secondary incidents" (incidents that occur after, and as a result of, a primary incident). The goal is to place the cones so that traffic can continue to flow freely through an open lane, if possible.
With more than 6,000 miles of highway to oversee and maintain, ADOT relies on its fleet of trusty vehicles to help get the job done. We're not referring to your everyday trucks and sedans – we are talking about heavy-duty equipment, designed and built to perform some enormous tasks. Because these vehicles play such an integral role in ADOT's everyday operations, we thought it'd be fitting to highlight some of them here on the blog in a series we're calling, Vehicles of ADOT.