Vehicles for hire, pit stops help tell story of ADOT's continuous improvement
Vehicles for hire, pit stops help tell story of ADOT's continuous improvement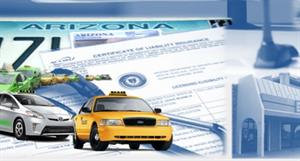 By Steve Elliott / ADOT Communications
Last week we shared how the ADOT Motor Vehicle Division office in west Phoenix has been turned into a laboratory of sorts to test ways of reducing customer wait times. We'll be sharing many stories from that laboratory in the coming months.
But this important effort on 51st Avenue is just one part of ADOT's commitment to continuous improvement.
For example, we shared today how MVD took a six-hour application process for owners of taxi, livery vehicle and limousine companies and streamlined it to just 10 minutes. That's right: 10 minutes.
Tom Opalka, MVD's commercial driver license, medical review and vehicle for hire program manager, explains it this way:
"We took an outdated, inefficient application process and applied modern technology and methods to it."
This is the essence of continuous improvement, and it reflects a commitment involving this entire agency, including those of us in ADOT Communications. A fun way to think about this effort, and an example we're using at ADOT, is the video above showing how auto racing pit stops have advanced from 1950 to today. It's two minutes long, but the ending and lesson are well worth the wait.
When we announced last week that the State Transportation Board has approved ADOT's five-year construction program for state highways, we shared two key ways our agency will measure how it's answering Governor Ducey's call for state government to continuously improve its value to Arizonans:
Bridges: ADOT strives to keep the percentage of highway bridges rated in good or fair condition at 95 percent or more.
Pavement: ADOT aims to increase interstate highway rated in good condition from 73 percent to 80 percent as measured by smoothness.
These are among the key performance indicators ADOT will use to measure its continuous improvement as an agency. We will tell these stories as well. But there are many, many other indicators – and ways we are working to improve results – across ADOT's various functions.
This is an exciting way of looking at how we do business at ADOT. We look forward to sharing this story with you.