VIDEO: The logistics of a concrete deck pour
VIDEO: The logistics of a concrete deck pour
By David Rookhuyzen / ADOT Communications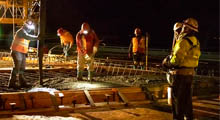 Chances are if you don't work in highway construction you haven't spent that much time thinking about what goes into pouring a concrete deck for new bridges.
But if you've ever been curious at all, our video team recently put together this look at everything that goes into creating a new bridge deck, using footage mostly shot during recent work on an expanded Interstate 10 bridge over Jimmie Kerr Boulevard in Casa Grande.
Tidbits included in this video include the temperature that concrete needs to be kept at before being poured and exactly how much concrete can go into such a large project. There's a lot of logistics and planning that goes into these sorts of projects, so take a few moments to see what exactly goes into this type of work.
This project, which will expand I-10 to three lanes in each direction between Early Road and Interstate 8 in Casa Grande, along with similar work near Eloy, is expected to wrap up later this summer.