A video update on the I-10/Ina Road project, six months in
A video update on the I-10/Ina Road project, six months in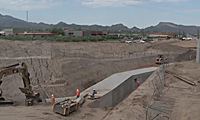 By Tom Herrmann / ADOT Communications
As you drive by Ina Road on Interstate 10, high above where Arizona Department of Transportation crews have been working hard in the dirt below, it's been a little hard to see the progress our crews have been making on this massive project.
That's all changing.
At the sixth-month point of this project, several things should catch your eye. The video above highlights those.
We've poured cement on a bridge that in a few months will carry Ina Road over the Santa Cruz River. That will allow us to remove and replace the old bridge. A year from now we'll have two bridges carrying traffic over the river and through the desert, doubling the capacity of Ina Road west of I-10.
Closer to I-10, huge cement pillars are in place to hold a new bridge that will carry Ina Road traffic over I-10 and the Union Pacific Railroad tracks. Girders will be placed on those pillars next month so we can build the western half of that bridge.
Looking east from I-10, more than a dozen 30-foot tall towers of steel rebar have been cemented into place. They will become the support structures for the eastern half of that same bridge over I-10 and the railroad tracks.
Barring something unexpected, we'll be moving I-10 traffic to new eastbound lanes and beginning work on the east side of the freeway shortly after the first of the year. A year later, in early 2019, you'll have a wider I-10, wider Ina Road, near bridges over the Santa Cruz River and no more delays as trains make their way north toward Phoenix and south toward Tucson.
Want regular updates on this important project? The town of Marana has a smartphone app, ProjectIna, that's updated regularly. We're maintaining access to area businesses throughout.