A view of the South Mountain Freeway from above
A view of the South Mountain Freeway from above
By Tom Herrmann / ADOT Communications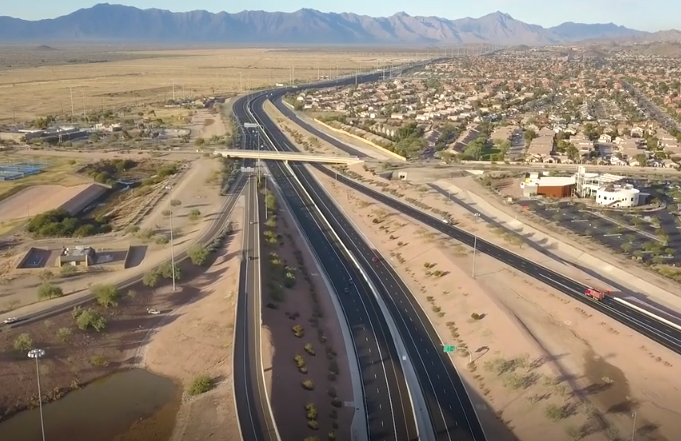 Sometimes, you have to take a step back to view something in all its grandeur. In the case of the Loop 202 South Mountain Freeway, we took a step up. Way up.
In the video at right, John Dougherty, a certified drone pilot with ADOT, gives us all a rare look at some of the things that make the South Mountain Freeway a special addition to Arizona's freeway system.
He captured the half-diverging diamond interchange at Desert Foothills Parkway. Along with a similar interchange at 17th Avenue, it's the first use of this innovative design in Arizona. You can see how easily traffic moves through the configuration, which makes these interchanges safer and more efficient for drivers.
In the West Valley, we see farmland, an innovative double roundabout at Elliot Road, two half-mile bridges over the Salt River and the massive interchange that connects the South Mountain Freeway back to I-10 in the West Valley. Economic development has already begun there because of the new freeway.
You soon will be able to drive the South Mountain Freeway. Before you do that, I encourage you to take a few minutes to explore the new freeway from above. There's lot to see along its 22 miles.