Watch the creative destruction happening on I-10 at Ruthrauff
Watch the creative destruction happening on I-10 at Ruthrauff
By Garin Groff / ADOT Communications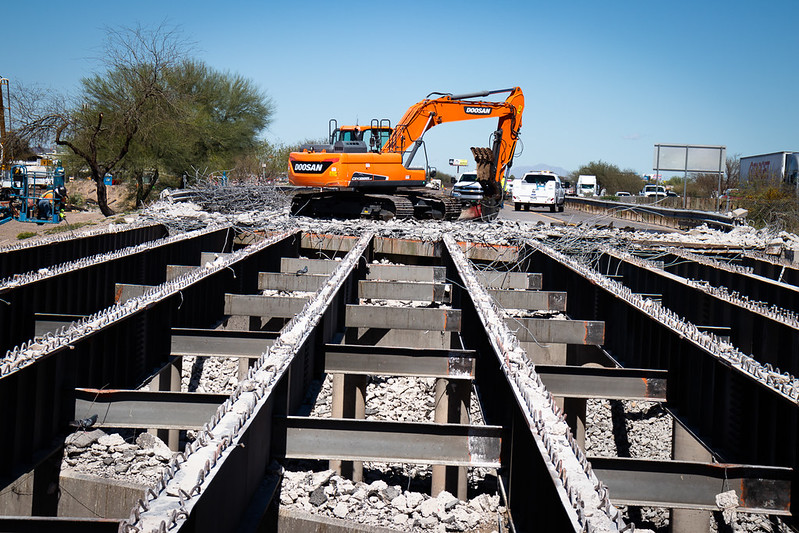 We're building a safer and more efficient interchange at Interstate 10 and Ruthrauff Road, but that can't happen until we demolish all the old stuff.
To show you what's involved, we're sharing this ADOT video of the recent work to dismantle the eastbound I-10 bridge over Ruthrauff Road/El Camino del Cerro. Watch as Dan Casmer, ADOT's senior resident engineer on the project, explains why we're lowering I-10 so a new bridge can carry Ruthrauff Road over the highway and the Union Pacific Railroad tracks.
The video also shows how crews are doing what seems like a ton of work, so to speak. But if you're counting how much material crews are removing, they're really doing 1,215 tons of work.
Here's a quick look at much concrete and steel crews ripped apart while demolishing the bridge:
1,090 tons of concrete
85 tons of steel girders
40 tons of steel rebar
One thing you won't see in the video or if you drive through the area: Everything being trucked away.
Only the steel will leave the site, hauled off to be recycled. Most of the concrete will remain within the mile-long project area. It will be crushed and used as fill material.
The $129 million I-10/Ruthrauff Road project began in January and is scheduled for completion in late 2021.
With state highways essential to delivering goods and services, ADOT, its employees and its contractor partners are dedicated to delivering transportation improvement projects during the current public health situation. To learn more please visit azdot.gov/covid-19-resource-center.