Wayback Wednesday: Spilled fruit spoils drive through the Deck Park Tunnel
Wayback Wednesday: Spilled fruit spoils drive through the Deck Park Tunnel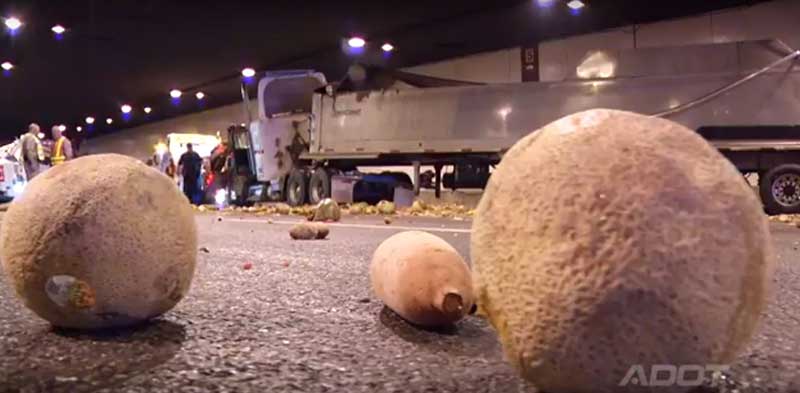 EDITOR'S NOTE: Every once in a while we reach back in ADOT Blog archives for a little slice of history. This one involves a spilled load of produce past its prime.
By Caroline Carpenter / ADOT Communications
No one looks forward to rotten fruit salad, but it's even worse when there's a semitrailer full of it.
Five years ago today a semi carrying a load of rotten fruit crashed into a wall of the Deck Park Tunnel, spilling its load into the westbound lanes of I-10 and requiring a memorable cleanup by ADOT crews.
The fruit was strewn across the freeway, and one tunnel wall was damaged.
Crews using construction equipment spent the better part of a hot July day shoveling rotten melons and then hosing down the tunnel. It's an example of why it can sometimes take quite some time to reopen a crash scene.
Engineers determined the damage to the tunnel wall wasn't structural. By the end of the day, all lanes had reopened in the tunnel.
To see more ADOT videos, please visit our YouTube channel at youtube.com/ArizonaDOT.