Weekend traffic shift will move forward new I-10 interchange in Tucson
Weekend traffic shift will move forward new I-10 interchange in Tucson
By Garin Groff / ADOT Communications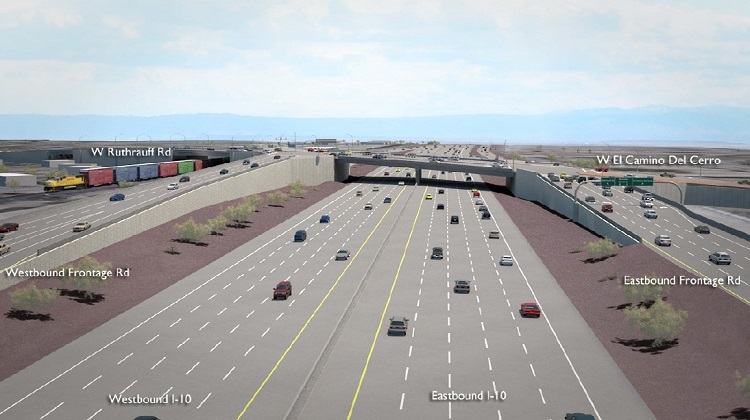 If your daily commute takes you along Interstate 10 in northwest Tucson, get ready to see some big changes to the freeway's configuration by the end of this weekend.
But that will be nothing compared with the even bigger changes that will transform the highway near Ruthrauff Road in the coming year: A decades-old bridge will soon become rubble. Retaining walls will rise up. And half of a new overpass will emerge at the center of a mile-long work zone.
That's a lot of change to take in as ADOT begins a major phase of the nearly two-year project to rebuild the Ruthrauff Road/El Camino del Cerro interchange.
And it all starts with traffic restrictions this weekend. Here's what to expect ...
On Friday and Saturday nights, crews will work overnight to move traffic away from the current eastbound lanes of I-10. That means shifting westbound I-10 to the westbound frontage road, and eastbound I-10 to the existing westbound lanes.
"That gives us the ability to create a pretty large work zone for that western half of the project, while still maintaining three lanes of traffic in each direction through the project area," said Dan Casmer, ADOT's senior resident engineer on the Ruthrauff interchange project.
With traffic out of the work zone, crews will start demolishing the existing eastbound I-10 bridge over Ruthrauff Road by the end of the month. After drainage and other underground utility work is complete, crews will rebuild about a one-mile segment of eastbound I-10.
That will be followed by retaining walls and half of the new Ruthrauff/El Camino del Cerro bridge, probably the most visible signs of progress for drivers.
"They're going to see a lot of work going on and it's going to move pretty quickly once we give the contractor that big area to work in," Casmer said. "You'll see that demolition happen almost immediately."
For the rest of this year, the traffic shift will place drivers on a mix of existing pavement and some stretches of new asphalt. While much of that pavement will be temporary, crews took care to fill in dips and avoid jarring bumps.
"We've done a lot of prep work so it should be a nice smooth ride," Casmer said.
You can find more information about the I-10/Ruthrauff Road project, including traffic alerts, at azdot.gov/RuthrauffTI.