A who's who of involvement in the I-11 study process
A who's who of involvement in the I-11 study process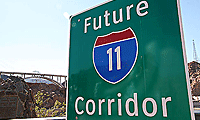 By Brock Barnhart / ADOT Communications
It takes many people, from the planning phase through construction, to take a proposed project like Interstate 11 from an initial concept to a transportation solution. With a three-year environmental study that began recently for a corridor between Nogales and Wickenburg, here's a quick rundown of who's involved. You can also click on the infographic to expand it.
Lead agencies
The Federal Highway Administration is the federal lead agency and the Arizona Department of Transportation the local study sponsor for the ongoing Tier 1 Environmental Impact Statement required under the National Environmental Policy Act. Together, they lead the environmental review process and guide involvement from others.
Cooperating agencies
These include federal agencies with jurisdiction or special expertise regarding environmental impacts. Other agencies or tribal governments may also qualify if the Federal Highway Administration concurs. Cooperating agencies typically have a higher degree of involvement in the environmental review process.
Participating agencies
Certain federal, state, tribal, regional and local agencies with an interest in the study provide meaningful and specific insights. The role of participating agencies is broader and less-involved than that of cooperating agencies.
Public at-large
These partners range from other agencies to organizations to individuals who wish to be involved. These stakeholders tend to have specific interests in the study, such as living or working in the study area. This effort could not be done without their participation and involvement.
---
Editor's Note: We shared today that the start of the I-11 Wickenburg-to-Nogales study process had strong involvement from the public. Everyone can provide input at any time. Please visit i11study.com/arizona for information on the study and ways to get involved.