Why mileposts on State Route 85 are both coming and going
Why mileposts on State Route 85 are both coming and going
By David Rookhuyzen / ADOT Communications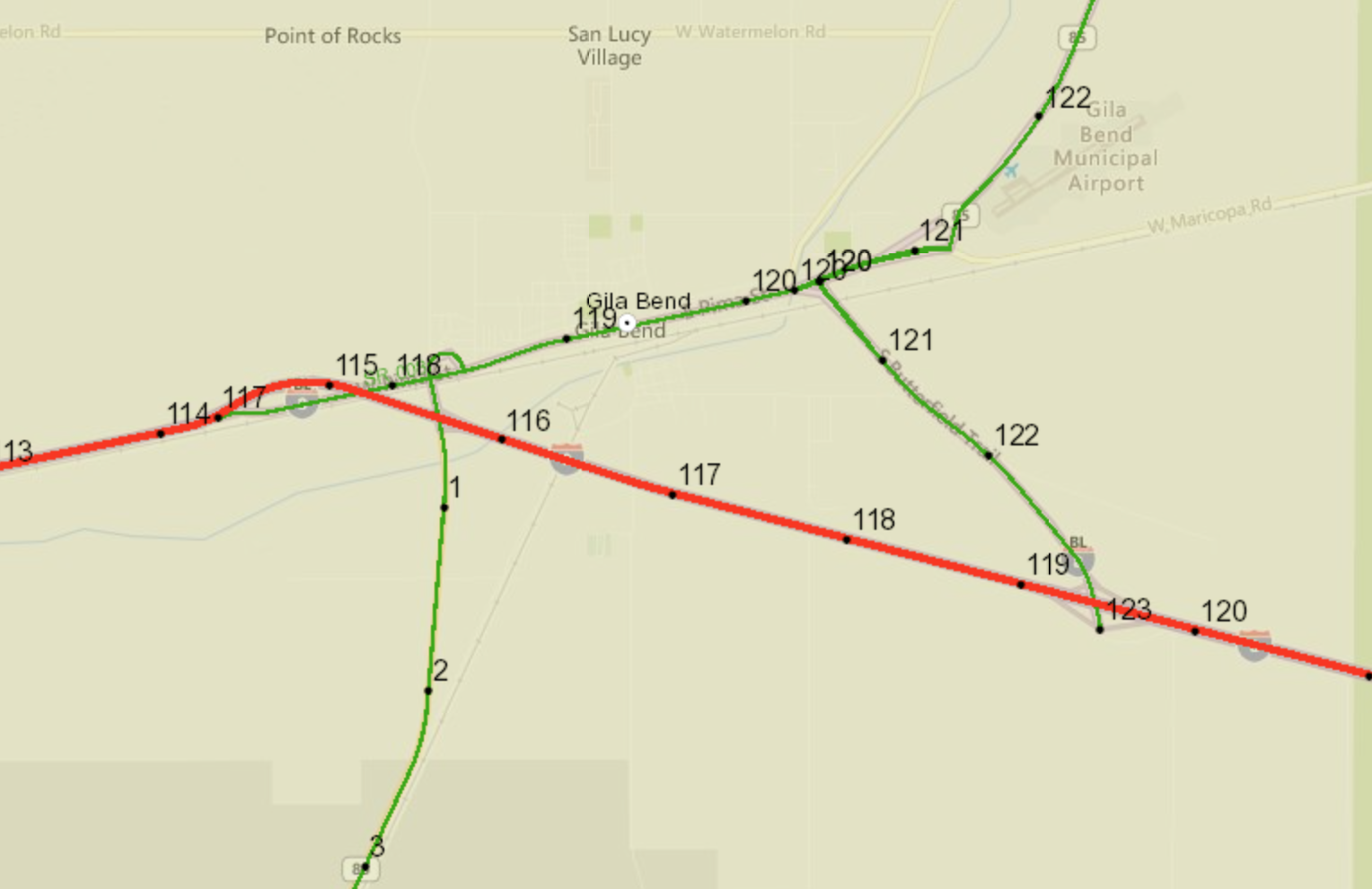 From lane striping to signage, a lot of what you see every day on a state highway or interstate has been standardized so people know what to expect as they get from Point A to Point B. However, every once and awhile, you can still find some irregularities.
Case in point: State Route 85, which has two different numbering schemes. Between Gila Bend and Interstate 10, the highway starts at milepost 117 and ends at milepost 154, with the numbers ascending south to north like they are supposed to. But heading south out of Gila Bend it starts at 0 and counts up to 80, when it terminates at Lukeville and the international border. You can see the numbering in this milepost map to the right. The green line heading northeast and south is SR 85.
So why the dueling numbering? Well, after consulting our 2012 Arizona Transportation History and officials in our Southwest District, we have arrived at a possible answer: State Route 85 was not originally one road.
Starting back in the 1930s, what was the road between Phoenix and Gila Bend was part of US 80, a coast-to-coast highway that ran from Georgia to San Diego. After the country started building interstates, most of US 80 between Yuma and Gila Bend became Interstate 8, which then continued east toward its current junciton with Interstate 10. The portion of US 80 that went north from Gila Bend was now designated State Route 85 with some tweaks to its alignment (you can still see and drive the original route Old US 80, which takes you over the historic Gillespie Dam). It appears this road more or less simply kept the mile marker numbers from US 80. That would explain why it starts at 117 and then keeps on going.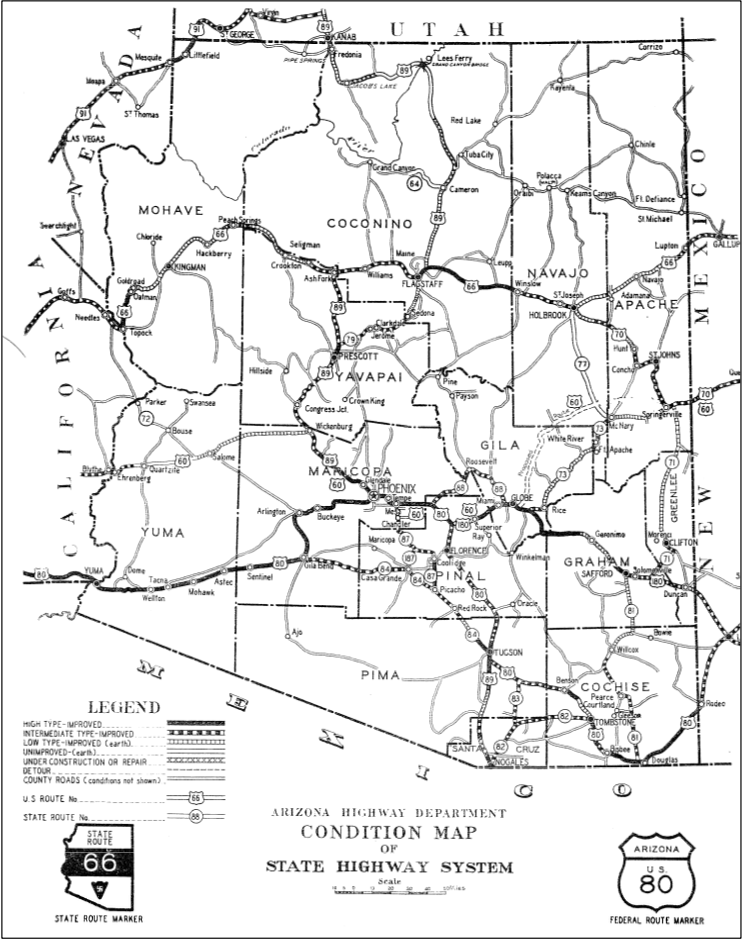 Now south of Gila Bend is a whole other story. The 1931 map of the state highways system shown here has a county road heading south from Gila Bend to Ajo and then striking east to Tucson.  By 1941, another highway map shows that Gila Bend to Ajo was now State Route 85, with another county road striking south toward Lukeville. The route from Ajo to Tucson would become State Route 86 shortly thereafter. The full route between Gila Bend and Mexico was not adopted as State Route 85 until the 1970s.
There are couple different plausible explanations about this segment's numbering that arise from all that. The first is that, since State Route 85 and 86 were sharing a good swath of highway for a bit, the whole thing was considered one long west-east road, which meant the western terminus at Gila Bend should start with "0." The other is that when the state made a determination for State Route 85 between Phoenix and the international border, the previous numbering on the northern segement, in use for decades, meant they couldn't start with "0" at Lukeville and make it all consistent. They may have just reasoned they were adding a new highway to the state system and determined that the start of the miles markers would be at Gila Bend.
As with most oddities in the system, this one traces its roots back to the earliest days of Arizona highways. The seemingly arbitrary numbering is a just a throwback to a time when everyone was still deciding how exactly to get between Point A and Point B.