Why there's zero tolerance for violations in new safety corridors
Why there's zero tolerance for violations in new safety corridors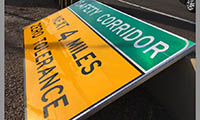 By Doug Pacey / ADOT Communications
You'll see new signs along two stretches of highway beginning this week – and more are on the way – designating Safety Corridors.
As we shared in our news release, these signs are accompanied by others noting that there will be zero tolerance for violations.
The video above notes the simple reason for Safety Corridors: ADOT, the Arizona Department of Public Safety and the Arizona Governor's Office of Highway Safety want to reduce crashes, severe injuries and fatalities, and getting drivers to focus on speed limits and other rules of the road is a way to do that.
To create Safety Corridors, ADOT and its partners reviewed historic crash data related to driver behavior and sought input from law enforcement.
Each phase of the Safety Corridor rollout focuses on an urban and a rural highway segment:
In the first phase underway this week, signs are going up on four miles from the I-17 Stack to SR 51/Loop 202 Red Mountain Mini-Stack and on 23 miles of I-10 between the Loop 202 Santan Freeway and State Route 187.
The second phase will involve 13 miles of US 60 from the Loop 101 Price Freeway to the Loop 202 and 23 miles of I-40 from Kingman east to US 93.
A grant from the Governor's Office of Highway Safety helped support establishing these Safety Corridors.