Work is finished on SR 143 traffic interchange project
Work is finished on SR 143 traffic interchange project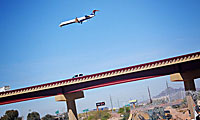 We've followed the progress of the SR 143/Sky Harbor Boulevard traffic interchange project pretty closely here on the blog and we're excited to let you know that the work is now complete!
That's right … it's all done.
On Monday (July 9), ADOT opened a new ramp connecting southbound SR 143 (also known as the Hohokam Expressway) with westbound Sky Harbor Boulevard.
Crews also re-opened the reconstructed northbound SR 143 ramp to westbound Sky Harbor Boulevard – it had been closed since March for improvement work.
The two other new ramps at the interchange (links between east- and westbound Sky Harbor Boulevard and southbound SR 143) were opened to traffic in March.
Besides the addition of the new interchange ramps, the $18 million project included the addition of southbound auxiliary lanes, which allow motorists the ability to merge or continue to the next exit. There was also the inclusion of new directional signage and enhanced landscaping.
So, now that construction is finished and there's a new way to enter the east end of Phoenix Sky Harbor International Airport, we'd like to thank you for your patience and cooperation during this 18-month project (we know freeway restrictions are no fun – especially if you're in a hurry to catch a flight). The next time you drive the area you'll notice the better traffic flow on SR 143 and the improved access to and from Phoenix Sky Harbor International Airport!
More on the project, which is part of the Maricopa Association of Governments' Regional Transportation Plan approved by county voters in 2004, can be found by re-visiting some of our previous blog posts.