Work on N20 isn't finished yet
Work on N20 isn't finished yet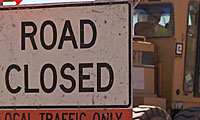 We know many of you are eager for construction on N20 to finish and we want to let you know that we hear you and understand just how ready you are for this roadway to open!
While work on the route isn't done yet, we hope you can be patient for a little bit longer and know that ADOT is taking ALL the steps necessary to ensure that N20 (also known as US 89T) is a safe roadway that motorists will be able to use for years to come.
There are a number of things that must be completed before ADOT can open the road to traffic.
Paving is only one part of the project – prior to opening any new state highway, proper signage, right-of-way fencing and other safety measures are necessary to ensure a safe roadway. N20 also needs cattle guards, swing gates and centerline rumble strips (as you can see in the video above, the large number of animals in the area means fencing is vital on this project. Crews are working now to install fencing along the route to keep livestock off the road).
The good news is that ADOT is still on track to complete the project prior to the Labor Day holiday weekend.
For now, we want to reiterate that N20 is still closed and is an active construction zone, particularly in these last couple of weeks as crews put the finishing touches on the project.