Working urgently and methodically to repair a flood-damaged highway
Working urgently and methodically to repair a flood-damaged highway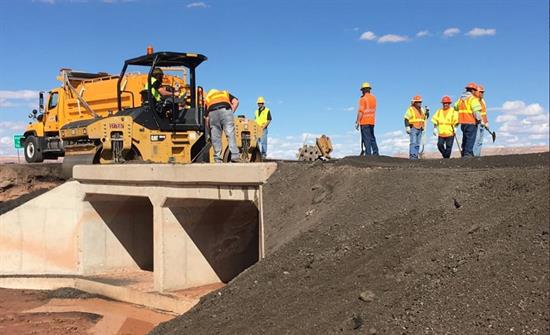 By Doug Nintzel / ADOT Communications
Less than 48 hours after flooding washed out a section of US 89 between Flagstaff and Page, I watched the first vehicle use a roadway restored through nonstop effort by ADOT personnel. As I had at other stages of this fast-moving project, where I worked with news media visiting the site, I snapped a photo for use on ADOT's social media accounts.
Between late Wednesday, when the washout occurred just north of Cameron, and Friday night when traffic was restored, I took photos and videos as dozens of ADOT employees worked urgently to reopen a highway critical to residents, tourists and trade in northern Arizona.
While they labored, traffic to and from Page and other points north of Flagstaff was using a detour route that added 125 miles to the trip. For residents of the immediate area within the Navajo Nation, losing direct access between Cameron and Tuba City was a tremendous hardship.
ADOT crews are filling in one section of the washed-out US 89 between Flagstaff and Page.

— Arizona DOT (@ArizonaDOT) October 5, 2018
The damage occurred when floodwater undermined the earth next to a concrete box culvert used to carry runoff beneath the highway. On Thursday, crews cleared the damaged pavement and, using excavating equipment, removed additional soil to make room for new base material that would support the repaired roadway.
NOW: Crews are hard at work repairing the storm damage that closed US 89 north of Flagstaff between mileposts 467 and 481. pic.twitter.com/fBLiOy0FGJ

— Arizona DOT (@ArizonaDOT) October 4, 2018
The assembled ADOT crews, some from as far away as Williams and Payson, worked hour after hour. Large dump trucks delivered the aggregate base from Gray Mountain. Drivers in front loaders scooped up that material and dumped it in the gap, allowing operators of additional equipment, including a larger excavator, handheld compactors (the jackhammer-like device showed in one of the tweets embedded above) and a pavement roller, to build a new subgrade.
ADOT crews fill in a 30-foot section of US 89 washed away by flood waters. A multi-day closure is expected midway between Flagstaff and Page. We'll update the public as soon as it reopens. #aztraffic pic.twitter.com/f76o2VN1gS

— Arizona DOT (@ArizonaDOT) October 5, 2018
That process required time, as the workers built a new foundation layer by layer, but the results were quite noticeable as day turned into Thursday night. That's when our engineers decided to also replace the subgrade on the other side of the box culvert because it showed signs of distress. It meant more digging and dirt removal on Friday, followed by filling with new aggregate base material, as a way to shore up more of the subgrade beneath the highway.
This excavation, backfill, and compacting work advanced on Friday, leading to optimism that US 89 could be reopened less than 48 hours after the damage.
NOW: Here's another peek at the progress on US 89. The highway remains closed north of Flagstaff. MORE: https://t.co/Uh8lNFq2QN pic.twitter.com/sUyK1hWKOZ

— Arizona DOT (@ArizonaDOT) October 5, 2018
Crews began to ready the area for the asphalt paving that would restore the driving surface. A distributor truck put down a layer of asphalt tack. Dump trucks carrying hot asphalt arrived on the scene. Front loaders carried the asphalt to the paving machine. The paving was done in layers as well, followed by crews on the roller compacting the asphalt mix in one of the key final stages of the work.
Here's another step in paving a section of US 89 cut by flooding between Flagstaff and Page. We're working nonstop to complete temporary repairs and restore traffic on this vital northern Arizona highway. pic.twitter.com/VxC0VS7ah2

— Arizona DOT (@ArizonaDOT) October 6, 2018
As the sun began to set on day two of the repair mission, excess material was hauled away, a sweeper cleared dirt from the highway and temporary pavement markers were set in place within the repaired section.
The lights are on along US 89 between Flagstaff and Page, where we are working to repair a section washed out by flooding. Our efforts to reopen the highway continue nonstop. pic.twitter.com/nhrVznHugw

— Arizona DOT (@ArizonaDOT) October 6, 2018
Activity didn't let up until just before the call was made to reopen the highway to traffic. It was just before 8:30 p.m. when the first vehicles traveled on the rebuilt area. ADOT personnel who had worked for two days with very little sleep had restored the primary route between Flagstaff and Page. A job well done.
US 89 is reopened and here's photographic proof! You can read more about the effort to reopen this stretch of highway in 48 hours at the link below. Reminder, continue to expect reduced speed limits in the area where the work was done. https://t.co/5N4wwgXv3Z pic.twitter.com/ffBolee01z

— Arizona DOT (@ArizonaDOT) October 6, 2018