A year ago, the South Mountain Freeway was a welcome addition to Valley freeways
A year ago, the South Mountain Freeway was a welcome addition to Valley freeways
By David Rookhuyzen / ADOT Communications

Last December there was one question everyone was asking us on social media: Is it open yet?
And it was a year ago today – as you can see in the Facebook post to the right – that we were finally able to say the answer was a definitive yes!
We are, of course, talking about the Loop 202 South Mountain Freeway, which completed the Loop 101 and Loop 202 system and had been approved by Maricopa County voters as far back as 1985. Today it seems almost impossible to imagine the Valley freeway system without it, but at the time it felt like that really big present under the Christmas tree that you can't wait to unwrap.
The South Mountain Freeway had been under construction for three-and-a-half years and represented the largest freeway project in state history. It was also Arizona's first highway project built using a public-private partnership, which combined design, construction and maintenance in a single contract and saved taxpayers more than $100 million.
During those years of construction we were able to pass along tantalizing details from its construction, including when the first pavement was poured; when native plant species were preserved to be replanted along the freeway; and when the last of 292 bridge girders went into place to span the Salt River. We shared mind-boggling numbers such as the total volume of earthwork moved could fill State Farm Stadium 15 times, or that the amount of rebar used weighed the same 3,100 African bush elephants.
The long-envisioned alternate connector between the East and West Valleys was highly anticipated, to say the least.
Governor Doug Ducey, ADOT Director John Halikowski and other notables gathered for a formal ribbon cutting in mid-December and just a few days later – after all the construction i's were dotted and t's crossed – it was open for any and all interested drivers.
So what did you all think about it? Well below is just a smattering of the praise the South Mountain Freeway garnered on social media right after the opening:
"Phenomenal job on the 202 extension. Travel it several times from South Mountain to I-10 but today marks the first time I used it to travel to the East Valley. Excellent ride. No need to travel I-10 or travel congested Baseline Rd. Kudos on a job well done. We love it."
"So grateful for the new 202 loop! It cut so much time off of my commute to and from work. Makes such a difference in your quality of life when you are battling traffic during the week! Thank you to everyone who made this possible."
"The best! It saved me 30 minutes when driving to Tucson. I loved it!"
"Our 202 loops and 101 loops are works of complete genius. There will always be a need for freeway upgrades and expansions, but the addition of the South Mountain 202 Loop is nothing short of a miracle. I don't need to use it everyday. I'll let the thrill wear down a bit ... then look out metro Phoenix, it will be my turn! Can't wait!"
"Crazy how you can get from 59th Avenue/I-10 area to I-10 Ahwatukee area so easy now! Good start to 2020."
"Great design and construction work, thank you for this great addition to our roadways!"
"Great job on this new stretch of freeways in the Valley. I drove it yesterday and it's gonna be a time and headache saver for so many drivers. Hats off to all involved!"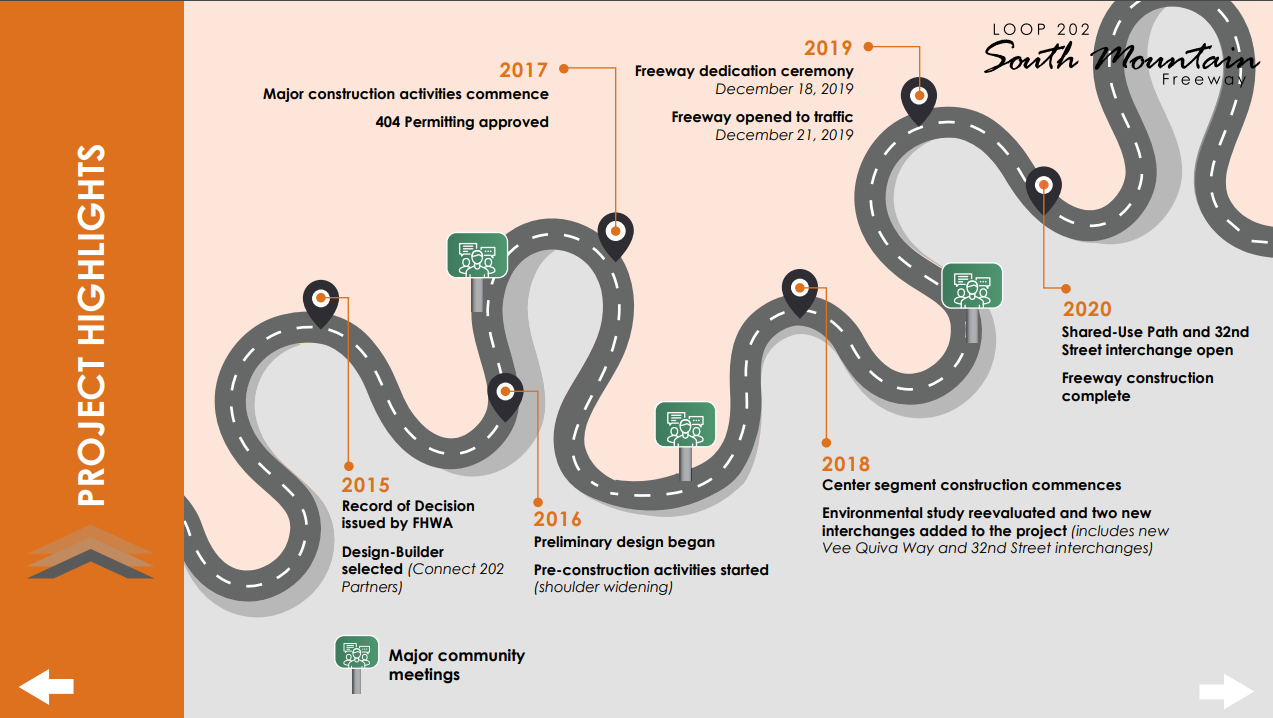 And that's before the last parts were even finished, such as the traffic interchange at 32nd Street, a 6-mile shared-use path between 40th Street and 17th Avenue in Ahwatukee and landscaping, which have all now been completed. 
The South Mountain Freeway has even earned national recognition, winning first place in the regional awards for the 2020 America's Transportation Awards competition and was nominated as one of 12 national finalists.
We can hardly believe that a year has come and gone already, but hope Valley drivers will keep enjoying the South Mountain Freeway for many more years to come.