This year let's give firefighters a break
This year let's give firefighters a break
By Kathy Cline / ADOT Communications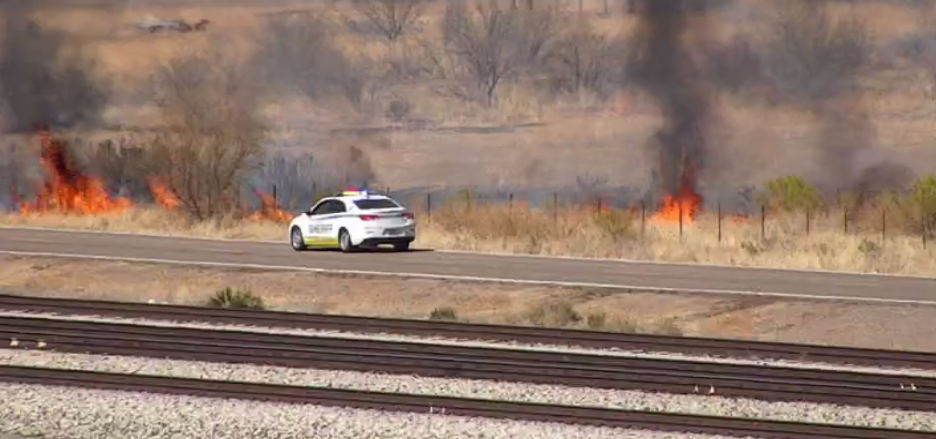 Fire season may be getting an early start this year. Low humidity and high winds in mid-March meant an elevated fire danger in the southern parts of the state. We've already seen at least one wildfire along Interstate 10 in the Sacaton area (that's the photo to the right) and another along State Route 188 too. 
This year – as every year – ADOT is encouraging all drivers to help give firefighters as much of a break as possible. Fighting a wildfire is hot, sweaty work, and can quickly exhaust a person. More than that, wildfires endangers lives, both for firefighters and the public at large. For example, in June 2018, a trailer dragging metal sparked several fires along State Route 377. Those fires eventually grew to 5,000 acres and prompted evacuations between Heber-Overgaard and Holbrook.
But the good news is helping to prevent vehicle-caused wildfires is easy! Here are some tips: 
Do not throw cigarette butts out your vehicle window. Either carry a special fireproof container in your vehicle to extinguish them or use a half-full water bottle.
Do not park in tall grass or brush (heat from under your vehicle can set vegetation on fire).
Secure your tow chains before heading out to avoid causing sparks.
Check your tire pressure before you travel. Exposed wheel rims can cause sparks.
Let's give firefighters a bit of a break this year! Check your vehicle before heading out and be mindful of where you park.
Find additional tips and resources for preventing wildfires at focusondriving.org